To ensure efficient workflows, appropriate software has become an important tool for property managers. But how exactly can advanced technologies like artificial intelligence (AI), Optical Character Recognition (OCR), Machine Learning and Deep Learning support the housing and property management?
At Konfuzio, we've been working hard on this topic, talking with property managers about their ideas and desires, and using this as a basis, we've determined how our AI-powered software can help streamline property management processes.
The terms apartment management, property management and real estate management all refer to the management of real estate. We are aware of the different emphases, but they generally describe the management of real estate at different levels - from individual apartments to large real estate portfolios.
For the sake of simplicity, we therefore uniformly use the term property management in the following text.
This article was written in German, automatically translated into other languages and editorially reviewed. We welcome feedback at the end of the article.
The most Important in a Nutshell
Property management software requirements include digitization of leases, automated inbox processing, email classification, among others, Indexing and digitization of tenant housing files.
AI-powered software from Konfuzio offers customized solutions that meet these requirements.
The software extracts accurate data, including handwritten annotations, through optical character recognition (OCR) and continuously learns.
Data protection and DSGVO compliance are guaranteed and the software can be seamlessly integrated into existing IT infrastructures.
The Konfuzio marketplace provides AI solutions for the real estate industry to enable faster and more efficient use of AI.
The use of AI-powered software improves the efficiency, accuracy, and organization of property managers to meet the growing demands of real estate.
Needs of the property managers
Before we look at how AI software can be used most effectively for property managers, it's important to learn what property managers require from software. To do this, we sat down with staff. The result of our discussions:
There is some overlap in software requirements of property managers. Certain key data occurs constantly in regular workflows that are essential for promising property management.
Application examples - How software contributes to process optimization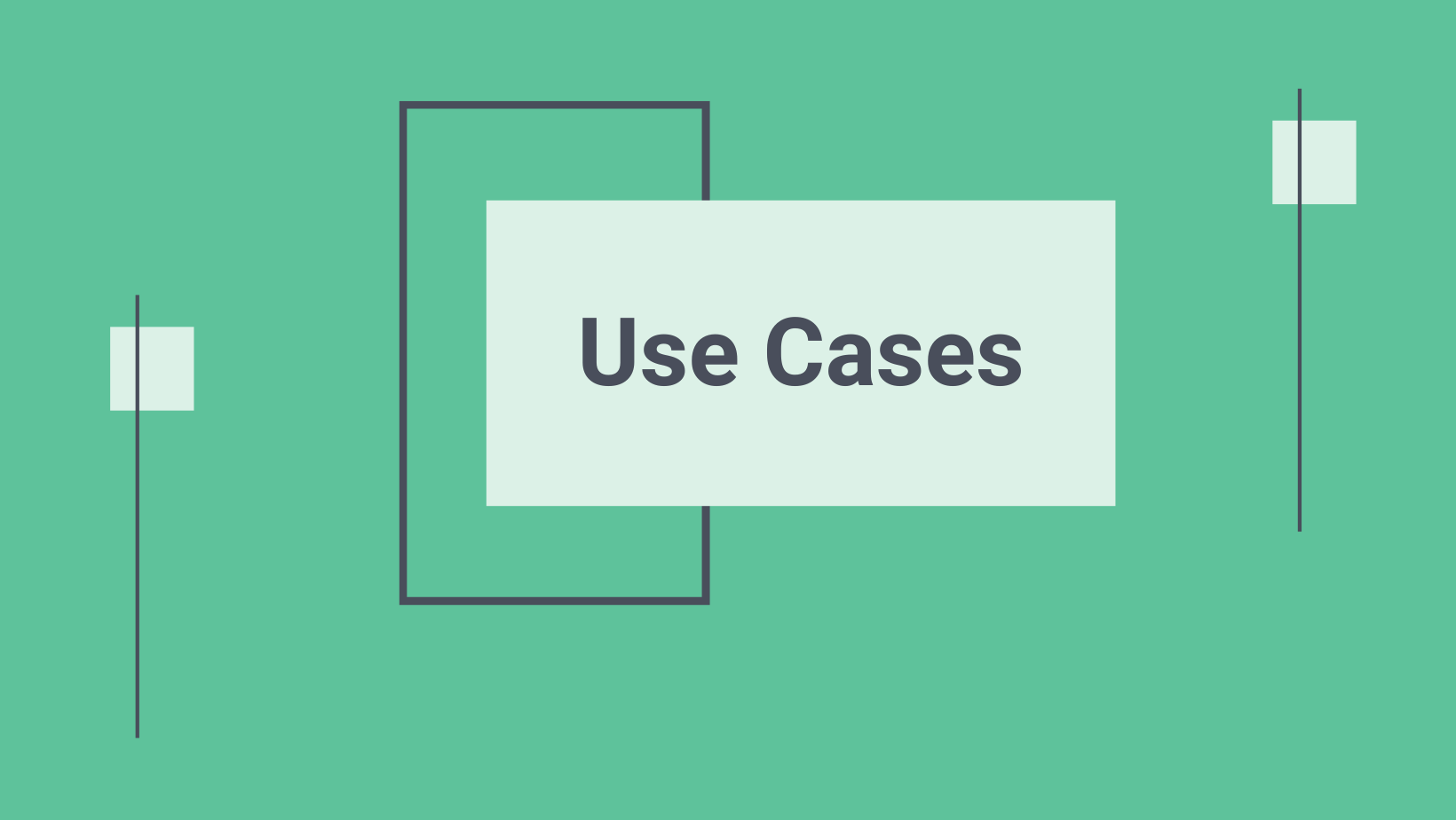 In the following, we describe some application examples of how the implementation of our software is a helpful support for property managers:
Digitization of paper-based documents
One of the most critical documents property managers work with every day are paper contracts. But manually searching through them and extracting information such as contract name, contract number, tenant data, and lease terms is time-consuming and error-prone.
Advantages
Time saving: Automation of data collection from contracts significantly speeds up the process within property management companies.
Error minimization: Software minimizes human errors that occur with manual data entry.
Want to learn more about digital document management? Read here more on the subject.
Digitized incoming mail processing
Processing incoming mail in paper form takes up a number of resources, is tedious and increases the administrative burden. Digitizing this process provides a remedy.
Advantages
Fast processing: Incoming mail is digitized and processed faster than physical postal operations.
Reduction of physical space requirements: No extensive paper archiving is required.
Are you wondering how it is even possible for mail to arrive at your office in digital form? There is the right answer here.
Classification of e-mails and digitized mail
The automatic classification of e-mails and digitized postal documents is critical to keeping track of communications and prioritizing urgent requests.
Advantages
Efficient communication: Emails and documents are automatically categorized and prioritized. The responsible persons in the administration are therefore able to direct their concentration to other tasks.
Quick response to requestsThe software automatically recognizes urgent requests and immediately assigns them to the responsible department or the right person in the property management department. A speedy processing is thus guaranteed.
Keywording for fast search in digital archive
The ability to quickly find documents and information using keywords is of great importance. You save time, financial and human resources and this already directly after the software implementation.
Advantages
Quick search: Information is easily accessible and can be found in seconds. The times of manual search in the confusing archive are a thing of the past.
Improved organizational structureArchiving and indexing of documents is done automatically by the software, eliminating the need for manual editing.
Read more about the automatic Keywording and document classification with AI.
Digitization of the files
The digitization of inventory files creates reliable and transparent tracking of repairs, insurance acceptance cases, and cosmetic corrections. Legal retention periods for various documents, such as craftsmen's invoices or self-disclosures, are also taken into account.
Advantages
Better documentation: The history of real estate is complete and easily accessible.
Efficient processing of insurance claims: Insurance underwriting becomes easily traceable.
Background knowledge on audit-proof archiving and legal retention periods can be found clearly summarized in one of our further articles. Please follow the Link.
Software for property management from Konfuzio as an ideal all-rounder
Konfuzio is a renowned software provider specializing in automated text recognition and data extraction. The AI-powered software meets the requirements that a large part of property managers want.
Transparent pricing and customized solutions
Konfuzio is not only characterized by transparent pricing, but also offers customized solutions for your very individual requirements. By implementing the software, you automate numerous workflows and optimize your administrative processes efficiently and straightforwardly.
Precise extraction of data and handwriting from documents
The digitizing solution provided by Konfuzio processes data extremely reliably even under difficult circumstances. Through the use of optical character recognition (OCR), Konfuzio automatically identifies and extracts relevant data, including handwritten notes, and learns through the intelligent AI automatically with every document processing.
Data protection, software integration and scalability
With the officially certified security structure, Konfuzio establishes the highest standards regarding data protection. and compliance with the General Data Protection Regulation (GDPR). By means of a API-interface, the software can be easily integrated into your existing IT infrastructure. Konfuzio is scalable and allows administrations to keep up with increasing order volumes without adding additional human or machine resources.
Are you planning to implement a software and would like to receive detailed information about Konfuzio? Contact our experts at any time via the Contact form. We advise you in detail and without obligation.

Learn what you can achieve with Konfuzio software in your administration.
The Konfuzio Marketplace - Interesting for the entire real estate industry
The Konfuzio Marketplace provides a platform that also helps managing organizations overcome the hurdles of AI and use AI solutions faster and more efficiently. An application example of a ready-to-use AI model for real estate shows the extracted data from the first page of a lease agreement: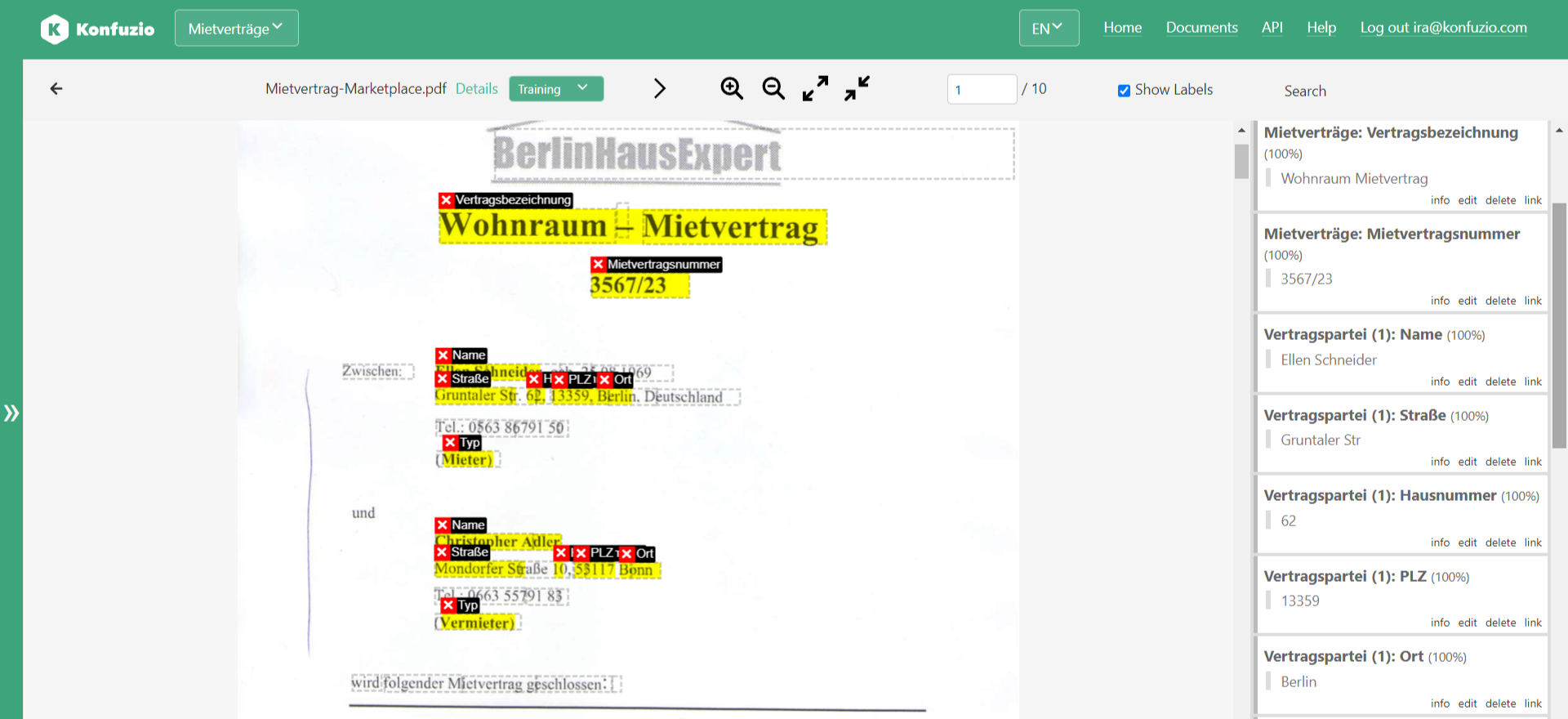 In the marketplace, you can find solutions from proven experts in your field. Save time searching for the right AI solution and get access to customizable AI models.
-> Register now for free on Konfuzio marketplace and try it out!
Conclusion
The introduction of software not only enables more efficient management of apartments and houses, but also offers significant benefits for administrators and their tenants. Despite the digital age, paper-based records required for property management are still widely used.
In order to extract certain data such as the contract designation or and rental conditions, a time-consuming manual review of the contracts has been necessary up to now. These steps are not only time-consuming, but also leave ample room for human error. The future of all administrative activities is digital - and AI is the key to efficient process optimization in real estate.
Overall, it shows that implementing software for property management companies not only saves time and resources, but also increases accuracy and efficiency. With the use of AI from Konfuzio, managing organizations optimize their workflows while meeting the ever-increasing demands of the real estate industry.
Would you like to receive more detailed information about what you can do with automation, digitization and AI-powered software for property management can achieve? Take Contact to our team of experts.