As a developer it is hard to find a good place to work at. Most developers aim to solve technical challenges. Probably dislike to be swamped with meetings and fear to have no documentation and other experts to ask for help when they start to work.
As a company it is incredibly important to find technical advanced developers that fit in the team. Many enterprises cannot express themselves in a technical way that would allow developers to determine the company culture and tech stack.
If you don't want to wait until the next Ask HN: Who wants to be hired? post you might want to look at our job offerings.
Visit available Jobs at Konfuzio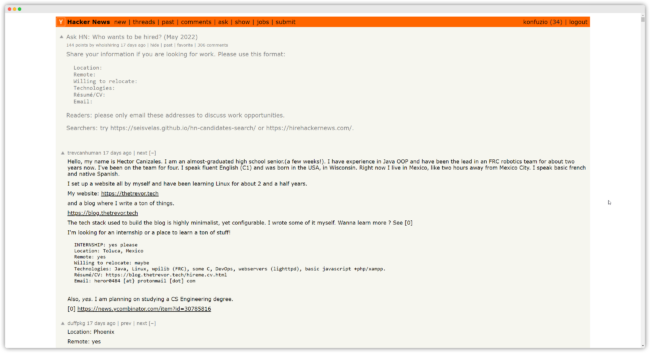 We think that the monthly Survey Ask HN: Who wants to be hired? provides added value. Any person looking for a new job they comment in this post with the following details.
---
Location:
Remote:
Willing to relocate:
Technologies:
Résumé/CV:
Email:
---
In this post, we'll summarize how to write a good comment so employees will find you. Why are we qualified to talk about this? Because we have hired four people through these monthly posts.
This article was written in German, automatically translated into other languages and editorially reviewed. We welcome feedback at the end of the article.
Why do we love "Ask HN: Who wants to be hired?"
On normal job platforms we have a rejection rate of 98 percent, Hackernews decreased it to 50 percent.
There are several tools to search these comments. However, we believe that monthly reading is worth it to get a personal impression of the counterpart.
How do you write a good job description?
It takes us about two hours a month to go through the list of all comments, including a bit of research. These comments vary widely. We would like to summarize the best practices from the employers' perspective.
What you should do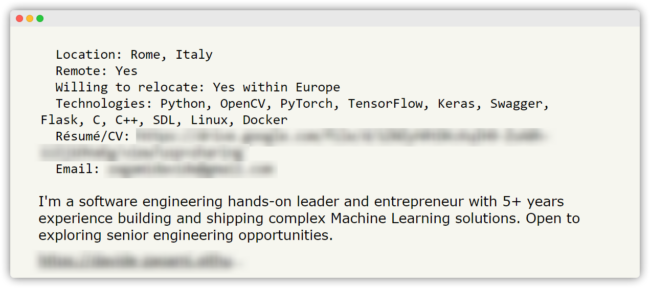 Stick to the format and add a short personal statement. Don't over do it.
Make sure the link to the CV is accessible. Many fail on this one already. LinkedIn is fine, too. Make sure you update it before you post on Hackernews.
Make sure the list of technologies is reasonable and reflects your working knowledge. Don't list every framework you might have been experimenting with.

Be transparent about your knowledge. Employers hire you to develop software. They don't look for a person to oversell. Don't call yourself an expert after programming for 1 year or so.
What you should not do

Make sure to list technologies, programming languages and frameworks. Don't mix the short personal statement with the list of technologies you want to work on.
Keep the proposed format, line by line. It is very hard to evaluate this comment if you are reading 400 of them.

Make sure to add some way of contact details. Otherwise you will need to check Hackernews frequently if potential employees have commented. You need to understand that many potential employers have no hacker news account. So they cannot contact you.