Konfuzio as a smart add-on to Unisys? It allows you to redefine the boundaries of business automation. 
Unisys offers a wide range of applications ranging from enterprise computing to cybersecurity and more. It acts as a comprehensive tool for companies that focuses on integration, security and efficiency optimization.
In this article, you will learn how Unisys works and how you can extend and optimize it with Konfuzio, an intelligent document automation solution.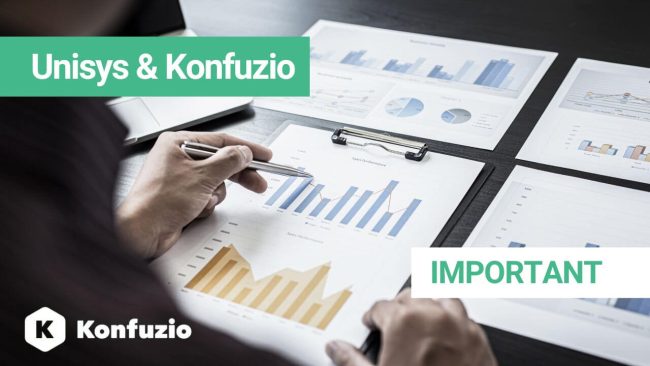 This article was written in German, automatically translated into other languages and editorially reviewed. We welcome feedback at the end of the article.
All about Unisys - The most important facts summarized
Unisys is a global IT company that offers comprehensive solutions for companies.
It develops modern applications, relies on artificial intelligence, optimizes business processes and offers services in the areas of change management, cloud management, communication and collaboration. 
Unisys supports organizations in the digital transformationstrengthens the Cybersecuritymanaged Data and analyticscreates Digital workplaces and offers Solutions for employee experiences.
The focus is on working with customers to understand challenges and overcome them with innovative solutions.
Who is Unisys suitable for?
Unisys is aimed at companies of all sizes and in all sectors that are looking for integrated IT solutions.
It is suitable for organizations that want to improve their digital workplaces, optimize business processes, integrate artificial intelligence, position themselves in the cloud, strengthen cybersecurity and gain data-driven insights.
What makes Unisys special
Unisys is characterized above all by the following aspects:
Holistic solutions: Unisys offers a wide range of solutions covering various aspects of IT and business operations.
Innovative technologies: The company relies on modern technologies such as Artificial Intelligencecloud management and quantum computing.
Customer focus: Unisys uses collaboration with customers to understand their specific challenges and offer customized solutions.
Digital transformation: Unisys supports companies in the transition to digital working methods and contributes to this, Make business processes more efficient.
Cybersecurity: With a focus on security, Unisys protects digital assets and strengthens customer trust.
Overall, Unisys is characterized by its versatility, technological innovation and customer-oriented approach.
Functions of Unisys
Unisys can be used in a wide variety of areas, and the available functions are correspondingly extensive. Below you will find an overview of the functional areas and the resulting possibilities:
artificial intelligence
Machine learningProvides systems with the ability to learn from experience and improve themselves.
Speech ProcessingEnables computers to understand, interpret and respond to human speech.
Business Processes
Workflow automation: Accelerates and optimizes business processes by automating tasks and workflows.
Process optimization: Analyzes and improves business processes for greater efficiency and quality.
Cloud management
Resource provisioning and scaling: Enables the dynamic adjustment of IT resources based on demand and usage.
Cost management in the cloud: Monitors and optimizes cloud spending for efficient use of resources.
Cybersecurity
Identity and access management: Protects against unauthorized access by controlling access to sensitive systems.
Security monitoring: Detects and reacts to potential security threats in real time.
Data and Analytics
Data integration: Unifies different data sources for a consistent database.
Business intelligence and analytics: Provides insights for data-driven decisions and actions.
Logistics Optimization
Quantum computing-based analysesOptimize logistical processes through advanced analyses.
AI-supported route optimization: Maximizes delivery efficiency through intelligent route planning.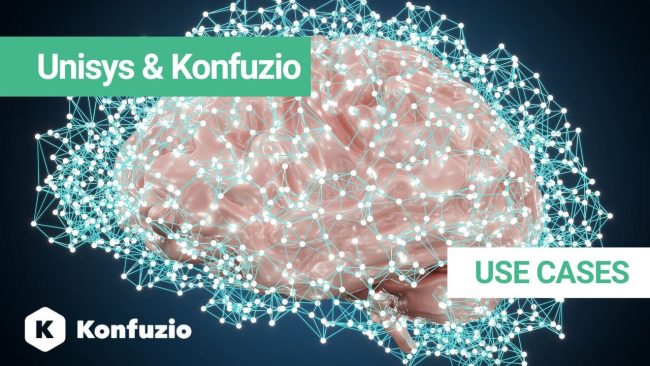 Unisys digitization tool - areas of application
Unisys offers solutions for a wide range of application areas, including e.g:
Aerospace industry

With solutions such as Unisys Logistics Optimization, airlines, ground handlers and carriers achieve optimized logistics processes and thus increase efficiency, reduce risks and increase productivity.

Device management

Unisys offers Modern Device Management solutions that help organizations efficiently manage their device fleets, improve the user experience and securely control remote work environments.

Enterprise computing

Enterprise computing solutions, including Unisys Quantum IQ, enable companies to optimize complex processes using quantum computing, artificial intelligence and advanced analytics.

Digital workplaces

Unisys Digital Workplace solutions focus on improving the digital employee experience by integrating modern device management, hybrid virtual desktop infrastructures and hardware and software asset management.

Communication and collaboration

With solutions for Communication and Collaboration, Unisys supports companies in the implementation and management of tools for improved communication and collaboration.

Security

Unisys offers cybersecurity solutions that protect companies from threats, secure their networks and ensure that sensitive data is protected.

Data and analytics

Through data and analytics solutions, Unisys helps companies gain valuable insights from their data and make data-driven decisions.
These application areas illustrate the versatility of Unisys' solutions and their ability to support different industries and business requirements.
Advantages and challenges of the Unisys application
Unisys has various advantages:
Broad portfolio of solutions for various areas of application.
Integration of advanced technologies such as quantum computing and artificial intelligence.
Focus on security solutions and cybersecurity.
Support for digital workplace initiatives for improved employee experience.
Experience in the Optimization of complex business processese.g. in logistics.
To optimize Unisys, it is advisable to supplement it with a smart add-on.
With an add-on, you can, for example, prevent any difficulties that might arise when using it on its own. This includes, for example, the challenge of Individual adaptation of the software to different infrastructure requirements in your company or the guarantee of Interoperability with existing systems and technologies.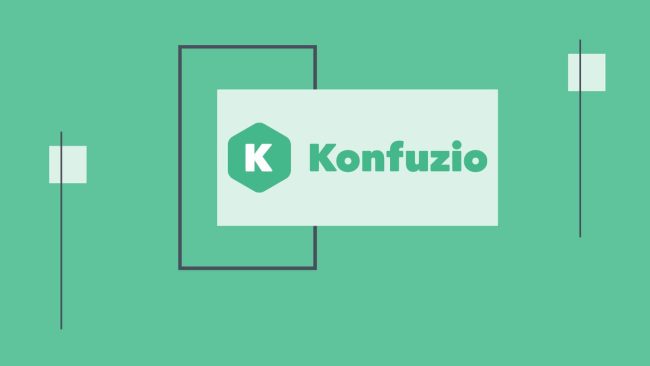 The solution? Konfuzio as a smart add-on to Unisys!
Konfuzio offers intelligent document automation with functions such as semantic analysis, segmentation, table recognition and automatic extraction of information from different document types. 
It enables:
Automatic categorization of documents
Flexible customization through adaptable AI
Processing e-mails with attachments
API & SDK development for individual document workflows
Input management for processing incoming mail and e-mail
Preparation for document management systems and archives
Konfuzio is characterized by no hard-coded rules, adaptability, scalability and the processing of scans and images.
In terms of applications, Konfuzio is an all-in-one tool for the automatic processing of documents in various industries, including finance, education and logistics.
How Konfuzio can support Unisys
Konfuzio supports Unisys as a smart add-on by Intelligent document automation integrated into the Unisys environment.
These are some of the ways in which Konfuzio creates added value for Unisys:
Automation of document processes
Konfuzio helps to automate manual document processing in Unisys. This includes the extraction of information from various document types such as invoices, contracts or forms.
Use Case: In the insurance industry, Unisys uses Konfuzio's automated document processing to efficiently process insurance claims. Konfuzio enables the extraction of relevant information from insurance documents, speeds up the approval process and reduces manual intervention.
Improved data accuracy
By using AI technologies, Konfuzio increases the accuracy of data extraction. This helps to minimize errors and improve the quality of the extracted information.
Use Case: In a global logistics company, Unisys improves data accuracy in relation to freight movements. Konfuzio is used to extract data from freight documents and automatically integrate it into the Unisys platform. This minimizes errors and improves the quality of the information captured.
Efficiency increase
The automation of document processes leads to an increase in efficiency by speeding up repetitive tasks. This allows Unisys employees to concentrate on more demanding tasks.
Use Case: An international financial services provider uses Unisys in combination with Konfuzio to achieve more efficient customer communication processes. Konfuzio automates the processing of customer inquiries and documents, reducing response times and increasing overall efficiency.
Integration of hybrid cloud infrastructures
Konfuzio is suitable for hybrid multicloud infrastructures. This allows you to integrate it seamlessly into the existing Unisys IT infrastructure, regardless of whether it is operated locally or in the cloud.
Use Case: In a technology company that uses hybrid cloud infrastructures, Konfuzio supports Unisys in the integration of contracts and licenses. Konfuzio extracts relevant data from contract documents and enables seamless integration with the Unisys platform to optimize the management of cloud resources.
Customizable AI models
Konfuzio offers customizable AI models that can be tailored to the specific requirements of Unisys. This enables more flexible integration and customization to business needs.
Use Case: In a manufacturing company, Unisys adapts AI models from Konfuzio to automate quality control processes. Konfuzio enables easy adaptation of AI algorithms to changing production requirements, resulting in more accurate quality assessments.
Input management
Konfuzio supports input management, including the automatic extraction of data from various sources such as e-mails, post and attachments.
Use Case: In a manufacturing company, Unisys adapts AI models from Konfuzio to automate quality control processes. Konfuzio enables easy adaptation of AI algorithms to changing production requirements, resulting in more accurate quality assessments.
By integrating Konfuzio as an intelligent add-on, Unisys can benefit from more efficient, accurate and automated document processing, improving overall performance and productivity.
Conclusion and outlook
Unisys offers a wide range of application areas, from enterprise computing to cybersecurity, digital workplace and more. Unisys' strengths lie in the integration, security and efficiency optimization of business processes.
Konfuzio, as an intelligent add-on, complements the performance of Unisys in a decisive way. With its intelligent document automation, Konfuzio enables the automation of document processes, the improvement of data accuracy and a more efficient way of working. 
The customizability of Konfuzio's AI models and the ability to work in Hybrid multicloud infrastructures make it a versatile and indispensable addition to Unisys.
You can use Konfuzio to support Unisys to optimize manual processes, increase productivity and allow employees to focus on strategic tasks.
Overall, Konfuzio acts as a key component that further enhances the performance of Unisys platforms and paves the way for future-oriented, intelligent enterprise automation.
Do you have any questions? Write us a message. Our experts will get back to you as soon as possible.