This article was written in German, automatically translated into other languages and editorially reviewed. We welcome feedback at the end of the article.
How to optimize your project by using templates
After you have read about the basics in the first tutorial , we can now go one step further.
In this tutorial, we will also use our data set of receipts. This time, however, we will deal with the listed individual services. To label them sensibly, we will use sections for the first time. Here, it is important that we teach the AI not only which entities belong to which label but also how the annotations relate to each other.
When we read the price of a product, this information is only useful if we also know the corresponding product. The same applies to the quantity and all other information we want to read out. Accordingly, all annotations that belong to a product and thus to each other are grouped in a section.
In this example, the content of the sections correspond to the products and to the rows at the formatting level. The labels correspond to the properties of the products and to the columns at the formatting level.
This way, all relevant entities are assigned two pieces of information, the section and the label. This is visualized in the image by the colored tags.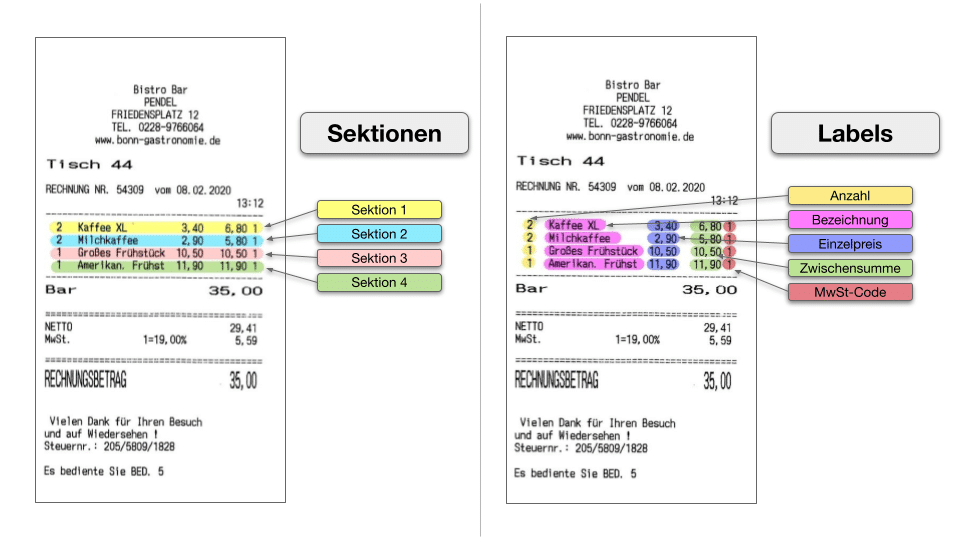 This principle is needed for lists and tables, among other things. We will show you how to teach it to the AI with this example.
---
Step-by-step tutorial
---
Any questions? We are constantly working to improve our instructions so that you can use Konfuzio as quickly and easily as possible. Please let us know if you have any unanswered questions so we can provide you with the best possible solution. Thank you!