Receipts can be automatically read and digitally processed with the help of intelligent software. With text recognition from Konfuzio, you thus modernize your corporate culture and save important resources.
This article was written in German, automatically translated into other languages and editorially reviewed. We welcome feedback at the end of the article.
Read receipts automatically with Konfuzio
The digital and automatic readout of receipts, cash register receipts and vouchers already helps many companies to sustainably optimize their workflows and categorize their expenses easily and digitally. By simply scanning, paper documents are read in digitally, together with all the important information.
The information captured from the receipts can then be quickly and reliably prescribed and further processed. Thanks to the digital reading of the receipt text recognition, tedious manual work is a thing of the past and valuable time of your employees can be reinvested more sensibly. Automated invoice processing can also immensely simplify the processes of preliminary account assignment, expense reimbursement and expense invoicing.
The technology of receipt text recognition works by using Optical Character Recognition (OCR) and machine learning. The captured and digitized data from the OCR software can either be output as an Excel file or sent directly via API imported into accounting or invoicing systems within the company. In this way, Receipts OCR ensures optimized processesto save time and resources.
How does a receipts OCR work ?
A photo or scan of the receipt is created.
The document is uploaded via the API (interface).
The AI software processes the document and reads out all relevant information.
The read fields are transferred and integrated in JSON format.
The read fields are transferred and integrated in JSON format.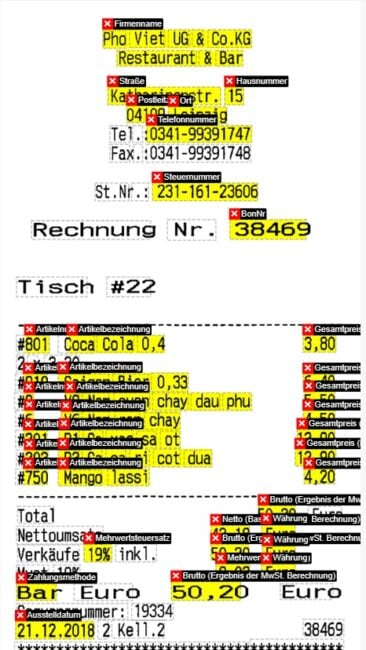 Receipts OCR: Save resources and optimize processes
One advantage of this technology is that it is able to capture receipts in different languages and fonts, which makes it attractive for companies with international business relationships. Also, the possibility of automatic categorization and pre-accounting of expenses, can facilitate the work in accounting, avoid errors and enable digital controlling. It does not matter what information is to be read from a receipt - Konfuzio's text recognition can be customized to meet the requirements of different companies and extract a wide variety of data.
The high quality selection and Extraction of the relevant information through receipt text recognition thus enables digital process optimization in companies in the first place. By automating manual processes, the risk of human error is reduced and data is better protected. All in all, then, digital automatic receipt readout is a useful technology that can help companies save time and resources, as well as increase efficiency within the company. Only with modern technology can a sustainable corporate culture and process optimization emerge.
Automation of the reimbursement of expenses
Especially in the process of expense reimbursement, Konfuzio's intelligent OCR software can add immense value. The reimbursement of expenses and third-party expenses can be automated quickly and easily by digitizing the relevant information, thus minimizing waiting times and workload. Thanks to the automated checking and forwarding of the submitted receipts, human intervention is also only necessary in exceptional cases.
Konfuzio provides the important technical basis for this process: The reliable and intelligent capture of data makes any further processing and process optimization possible. This also applies to other processes such as automated invoice processing and pre-accounting as well as the implementation of digital controlling.
What fields can the receipts OCR recognize?
Before the data is read out and processed further, receipts, till receipts, vouchers and the like are read in and digitized by a document scanner. In this way, the paper documents are transferred into digital formats such as pdf, jpg or json. All relevant information can then be extracted from these formats.
Konfuzio's OCR specializes in transferring information into digital data and reliably and automatically reading receipts, sales slips, and other vouchers. The data fields that Konfuzio's OCR software reliably recognizes to categorize expenses are:
Address
Quantity/ amount
Article description
Item number
Order number
Date of issue
Document number
Gross and net amount
Single and total price
Delivery and service date
VAT amount
VAT rate
Product details such as color, expiration date or serial number
Sales tax identification number
Currency
Payment details
Payment method
FAQ:
How can receipts be digitized?
To save documents and receipts by intelligent text recognition In order to read documents automatically, they have to be transferred into digital formats. Scanning or photographing documents and records are common methods of digitization. A simple document scanner is used for this purpose.
Can other documents also be captured automatically?
Yes. In addition to a receipt, other supporting documents such as. invoices, vehicle documents or contracts can be read in and processed automatically. An overview of the documents that can be read in is available at here.
What are the features of Konfuzio OCR?
The functions of the OCR software of Konfuzio are manifold. After scanning, all relevant data can be extracted from various documents in different languages and processed further. These can be easily processed via API transferred to the company software and processed there in complex processes.