You know it for sure, you have a lot of files stored on your cell phone or laptop and you are looking for a certain wording? However, this is not so easy with scanned documents, PDF files, screenshots or even photographed pages. With a program for PDF text recognition, these files are made searchable.
This allows you to search all stored documents for a specific date, an invoice amount or even specific wording.
Never again will you have to read through pages and pages of text to find exactly what you were looking for in, for example, insurance policies. This not only saves you time, but also cash, by reducing your daily Document management becomes many times faster and more efficient. Our OCR software makes future management easy for you.
What exactly PDF text recognition is and why you need it, you will learn in the following article.
This article was written in German, automatically translated into other languages and editorially reviewed. We welcome feedback at the end of the article.
1. What is PDF text recognition?
PDF text recognition is a technology in which image files are transformed into text documents by optical character recognition. This allows documents to be made searchable and categorized and assigned quickly accordingly.
When converting scanned documents or PDF files to searchable documents, using PDF text recognition the following happens:
Artificial intelligence and special programs enable the automatic recognition of letters. This creates text-based and editable files from previous image files, such as scanned documents, screenshots or even PDF files.
Professional programs offer the possibility to map and recognize multiple languages of a document.
This technique is also often called OCR Text recognition referred to. 
After using the software, you can then highlight, copy and, of course, search your documents for specific terms and phrases.
For more information and details about the definition of the text recognition you can here read up.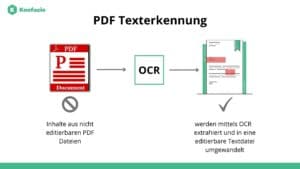 2. How does text recognition work technically?
First, the structure of the file to be converted is roughly estimated by the OCR software. Are there images, tables and text blocks in the document? The program detects this structure and next processes the existing text. For this purpose, the entire text is first divided into text blocks and then into text lines. Then the program captures individual letters from the text lines. The letters are compared with various already known letters and a technical hypothesis is made as to which letter it could be. After the hypotheses have been checked by the program, the final text is presented. This process happens within seconds, so despite highly complex processes, you do not have to wait long for the finished document.
Nowadays, intelligent programs make use of the so-called ICR (Intelligent Character Recognition) technology. This makes it possible to perform a context analysis of the text to be processed. A digit first recognized as a "5" is correctly converted into an S on the basis of the context. ICR is an important technology not only for handwritten documents, but also for PDF documents. In these, previous typing errors can be detected and corrected, thereby sustainably increasing the quality of the final documents.
Here learn more about Konfuzio in 60 seconds. 
2.1 How can I digitize documents with PDF text recognition?
Digitizing is very simple and can be done without any prior technical knowledge. Simply drag and drop your existing documents into our program's window and your files will be digitally captured and converted into text-based files. This process only takes a few seconds and you can directly access your converted files.
A step-by-step guide to digitizing and how easy it is to use Konfuzio can be found here here.
3. Why is PDF text recognition needed?
PDF text recognition software is particularly useful for companies that have a high document management workload and need to digitize a large number of analog documents. 
Documents such as PDF files can be easily digitized and made searchable. Both documents that have already been saved, such as PDF files, and documents that are newly received benefit from programs with PDF text recognition.
PDF text recognition reduces the workload for employees and saves them a great deal of time, as they can quickly search through the various documents as needed. Automatic text recognition demonstrably increases the quality of your digitized documents thanks to the ICR technology used.
Also for the Classification The use of the PDF text recognition is helpful for the classification of documents. The software determines individual categories and properties of a document and can make a certain assignment based on that. This way you can easily and quickly categorize documents from your inbox. For example, if you receive a Invoice, the program automatically recognizes the information and can match it with existing order data, such as the order number, and assign it to them. Also information about the Sender or the Invoice number are reliably recognized. This ensures that all incoming documents are quickly assigned and processed, saving working time for important tasks in your core business.
But not only for incoming invoices the PDF text recognition is suitable. For example, you have Receipts or vouchers as a PDF file? These can be easily converted into text documents.
Especially vouchers and receipts that are required at the end of the year for the Tax return or the Tax office are needed can thus be found quickly and assigned to the right place. Save yourself time and hassle by finding all the necessary documents quickly. Especially with the tax return, it is important to keep track of the large amount of documents.
Even with very extensive documents such as the Insurance policies PDF text recognition provides a great relief. Documents without PDF text recognition have to be read carefully to find what you are looking for. The situation is different when the entire policy is digitized with PDF text recognition. A short keystroke and you get the section of the document you are looking for without having to read through pages of text.
But that is not all! Also handwritten documents can be captured with the software and converted into a text-based file. This means that important notes on contracts are no longer lost and can be found quickly when needed.
FAQ
Image source: https://www.pexels.com/de-de/ pexels-pixabay-357514.jpg
How to digitize receipts with PDF text recognition?
Simply insert existing receipts into the software window and the conversion and automatic recognition takes place in seconds.
For which documents is text recognition suitable?
invoices
Handwritten notes
receipts
Motor vehicle licenses
Insurance policies
Receipts
 
What is PDF text recognition?
PDF text recognition is a technology that transforms image files into text documents. This allows documents to be made searchable and categorized and assigned quickly accordingly.