In this article the software iflow of Ritter Technologie GmbH in focus, which enables digital invoice verification. As a Konfuzio partner, Ritter Technologie offers software to check invoices, release payments and archive them electronically in accordance with GoBD.
Ritter Technologie GmbH is a fully comprehensive technology partner for the digitization of companies. Medium-sized companies in particular find a partner in the company from Oberhausen, where the highly qualified IT specialists can look back on many years of experience and bring this to bear at eye level.
This article was written in German, automatically translated into other languages and editorially reviewed. We welcome feedback at the end of the article.
Automated processing of incoming invoices
Businesses of all sizes benefit from digital invoice verification. This reduces the daily file, paper and mail overload and optimizes the invoice verification process through artificial intelligence (AI) and established workflows.
How does the invoice workflow work?
Digitize invoice
Archiving
Intelligent invoice reading with OCR with Konfuzio
Classification & matching of master data
Digital invoice verification
Digital invoice approval
Booking / Interfaces
Digital invoice receipt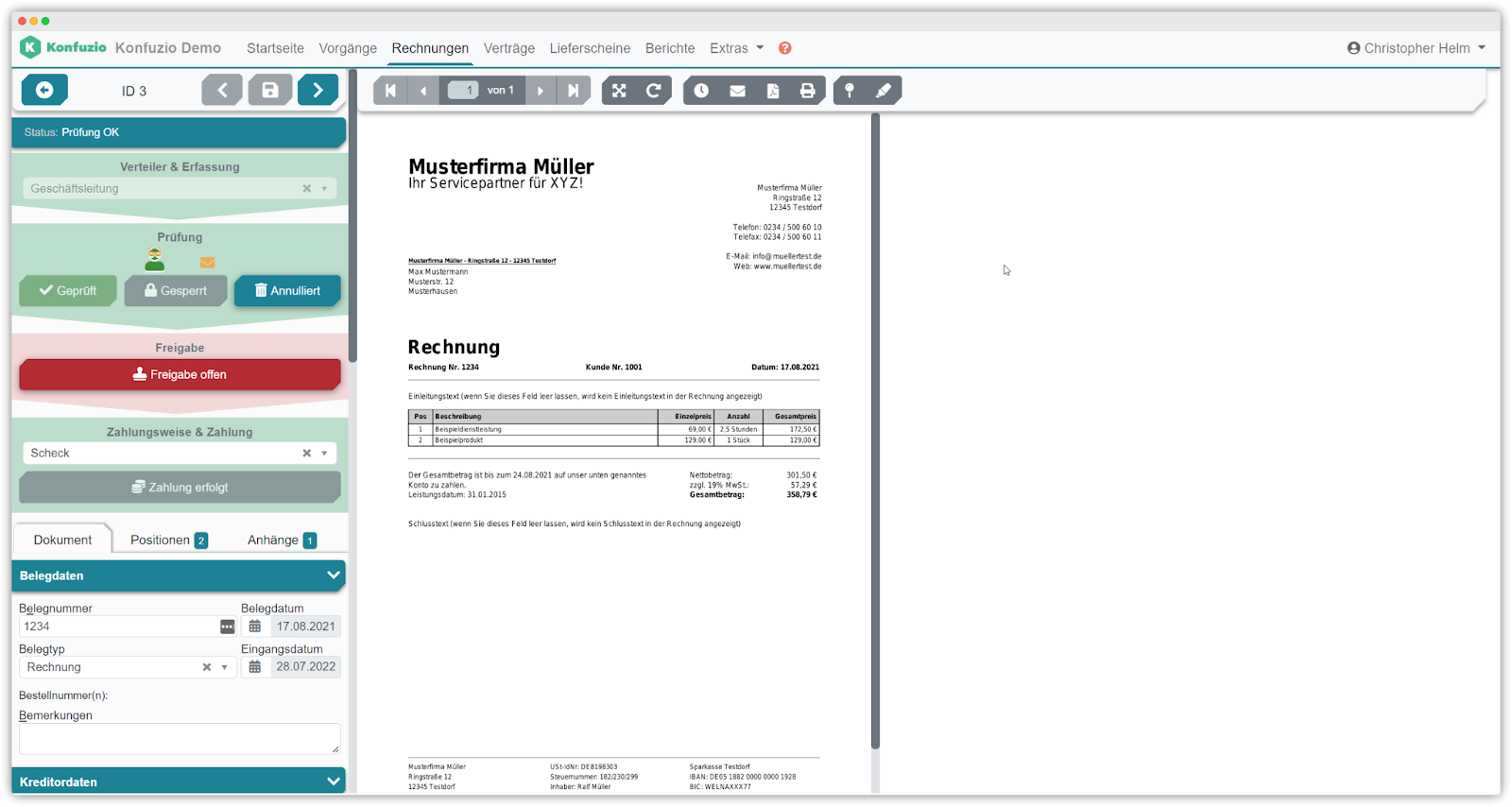 In addition to the manual upload of documents, these can also be automatically extracted from incoming e-mails or digitally retrieved from various portals, including Amazon, and automatically imported. In addition to incoming invoices, delivery bills and contracts can also be processed.
Automatic archiving of invoices
Every incoming document is automatically stored in an audit-compliant electronic archive in accordance with GoBD. This lays one of the foundations for no longer having to keep paper documents. Thanks to full-text search, this not only speeds up the process of finding the desired documents, but also saves the space and costs of the usual paper archive.
OCR invoice recognition with Konfuzio
Thanks to state-of-the-art text recognition and intelligent processes, iFlow reads relevant invoice data for pre-accounting to reduce manual activities to a minimum. In addition, the mandatory information required for invoice verification can be automatically included in invoices. For more information on Ki training, please visit OCR for invoices train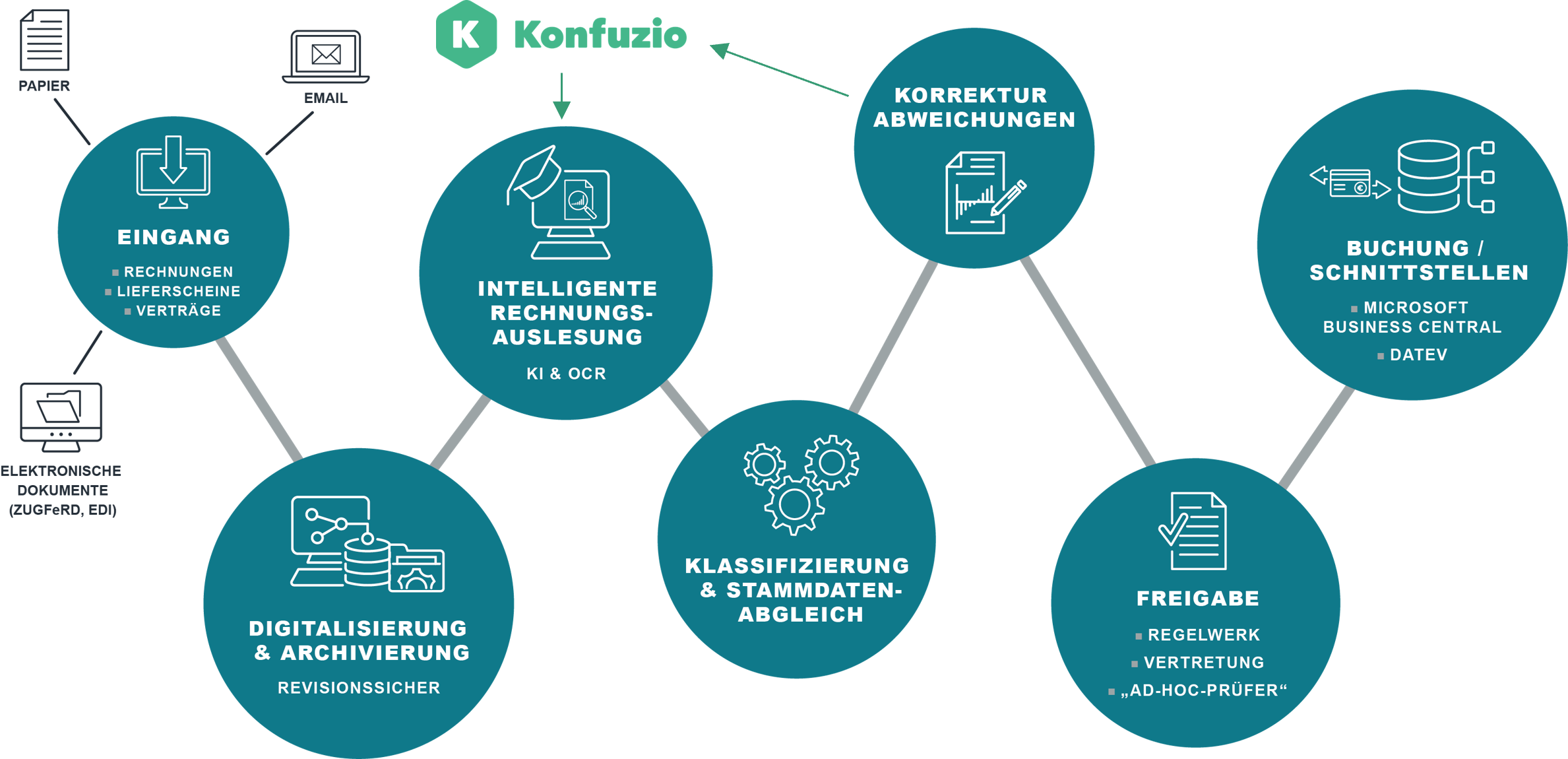 Supplement vouchers with existing accounting data
Is it an invoice or a credit note? Is there already a supplier number in DATEV or another third-party system? The software takes care of this matching for you.
Digital corrections of invoices
Should it ever be necessary, document data can be supplemented or corrected to ensure smooth, automated further processing and invoice verification.
Digital invoice verification even for complex verification scenarios
Intelligently configurable distribution lists make it easy to map even complex checking scenarios. Vacation replacements, parallel checks, consultation of "external ad hoc checkers", optional separate payment release and reminder e-mails included. Every check and release can be carried out at any time and any place. Of course also on mobile devices.
Import invoices into Dynamics 365 Business Central and Datev
All document data is easily exported to DATEV or Dynamics 365 Business Central via interfaces. Depending on the interface, also including document images and inspection history.
Digitize invoice processing easily
As a manufacturer, Ritter Technologie GmbH supports you during the basic setup and commissioning of the software for digitizing invoice processing. The highly qualified team with many years of project experience is at your side and will be happy to advise you on best-practice scenarios so that your introduction of the digitization of invoice processing in the company is a success.
What is important to consider when digitizing invoices?
Where are the invoices stored?
Your invoices and other data are stored GoBD-compliant in our own ISO-certified data center (Oberhausen) located in Germany. In addition to the data center, the processes are also certified and meet the highest security standards, both in terms of data protection and data security. Invoices, data and other documents are mirrored several times a day on redundant servers and all data and documents are backed up daily to protect against data and document loss. In addition, the integration of third-party systems and audit-proof archiving round off the solution to your advantage.
What is an incoming invoice?
An incoming invoice is an invoice sent by a supplier (vendor), which must be checked in the company, assigned to an account in the accounting department and paid. Invoice processing is a complex process that must be handled in a legally compliant manner so that companies do not suffer any disadvantages. The software simplifies this complex process of invoice processing.
Does the invoice have to be digital?
It does not matter whether invoices are received in paper form, as a PDF document, by e-mail or in a digital format, e.g. ZUGFeRD or XInvoice: the iFlow provides optimum support in the capture and further processing of receipts for accounting.
Can the software also be used to digitize delivery bills?
Yes, in addition to credit bills and invoices, contracts and delivery bills can also be stored digitally for accounting purposes.
Is there a German-speaking support?
Yes, all employees of Ritter Technologie also support you in German.