Optical character recognition (OCR) has become an indispensable technology in recent years. It enables the automatic conversion of printed or handwritten phrases into machine-readable text, which is crucial for business success in many industries.
From the digitization from documents to improving processes in companies - OCR has many applications. But how much does OCR actually cost? The answer to this question depends on several factors, which we'll take a closer look at in this blog post.
This article was written in German, automatically translated into other languages and editorially reviewed. We welcome feedback at the end of the article.
What is OCR?
OCR stands for "Optical Character Recognition" or "optical character recognition" in German. It is a technology that transforms printed or handwritten formulations of paper documents, images or other optical media into machine-readable text. This transformed text can then be edited, searched or stored in digital documents. This is particularly useful when analyzing or automating documents. OCR systems use complex algorithms and pattern recognition techniques to identify and extract letters, numbers, and symbols in an image or graph.
Areas of use and application examples of OCR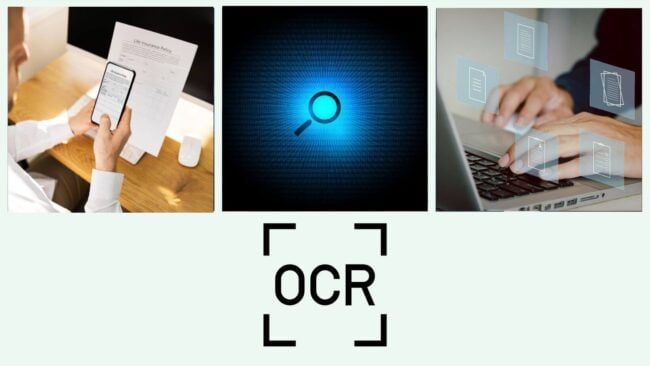 The OCR technology offers numerous application possibilities in various fields. Among them are the digitization of printed books and documents, the automation of Data extraction in companies, improving accessibility for visually impaired people, and many other areas in which text is transferred from physical media to digital formats. Use cases of Optical Character Recognition for exemplary industries are:
Healthcare Industry
Medical records: Hospitals and medical practices use OCR systems to digitize patient records and medical reports. This represents an enormous Facilitate the search for information and the transfer of data between health care facilities.
Insurance claims: Health insurance companies are using OCR technology to process insurance claims and medical bills faster and more accurately.
Finance
banking: Banks use OCR to automatically process checks, credit applications, and other financial documents to speed transactions and minimize errors.
accountingCompanies are using OCR to process a variety of documents, including Receipts and bank statements into digital data, which simplifies accounting and financial reporting.
Education Industry
Digitization of teaching materialsSchools and universities use OCR to convert printed textbooks and documents into electronic formats. As a result, learners gain access to digital resources.
Exam ProcessingEducational institutions are using OCR to create exam answers. Automatically capture and to evaluate.
legal industry
Legal documentsLaw firms and courts use OCR to process large volumes of documents. Legal documentsThe aim of the project is to digitize and make searchable all documents, contracts and court decisions.
Document management: OCR systems help manage legal files and documents efficiently. Read more on the topic "Digital document management".
Retail and e-commerce industry
invoice processingRetailers are using OCR to create paper invoices and Delivery notes into electronic data, making the ordering and payment process automatic.
Product catalogsOnline retailers use OCR to extract product information from printed catalogs and brochures. extract and integrate them into their online stores.
Administration and authorities
Document archivingGovernment agencies are using OCR to digitally archive historical documents or to facilitate Identification procedure.
Postal services: Shipping service provider rely on OCR to automatically recognize addresses on letters and parcels and make sense of them for sorting.
Logistics and transport
Cargo trackingIn freight forwarders and logistics companies, OCR is used to extract information from shipping documents such as the BoL or shipping labels and monitor the transport process.
License plate recognitionOCR has been used for automatic license plate recognition in toll booths and parking garages, as well as for processing Vehicle documents.
These examples illustrate the versatility of OCR technology and how it can be used in different industries and departments. OCR helps businesses and organizations of all sizes to Process automation, increasing efficiency and facilitating access to information. OCR plays a critical role in managing the digital transformation and improving information management in today's business world.
Free OCR Tools
Tesseract OCR (Open Source): Tesseract is an open source OCR engine developed by Google. It is available for various platforms and extracts text from images and scanned documents. Tesseract offers support for multiple languages and can be integrated into your own applications.
FreeOCRFreeOCR is an easy-to-use, free OCR tool for Windows. It extracts text from images and PDF files. FreeOCR supports multiple languages and offers basic editing functions.
Online OCR servicesVarious online OCR services such as Online OCR and OCR.space offer a web-based OCR solution by allowing users to upload their images or PDF files and download the extracted text. These services usually include limited free usage and allow paid access to advanced features and larger volumes.
Advantages of free OCR tools
Free: The most obvious advantage is that there is no cost for text recognition within the applications.
Easy to use: Many free OCR tools are user-friendly and do not require extensive training.
Basic text recognition: Free OCR tools are good for simple OCR tasks, such as extracting text from scanned documents or images.
Disadvantages of free OCR tools
Limited accuracy: Free OCR tools are less accurate than paid OCR solutions in terms of text recognition accuracy.
Limited functions: They often offer fewer features and customization options compared to paid OCR tools.
Limited support and updatesOCR tools without cost may receive irregular updates and include less support compared to commercial solutions. This may lead to compatibility issues.
OCR Desktop Software
ABBYY FineReader: ABBYY FineReader is a high-quality OCR desktop software that offers accurate text recognition and conversion of scanned documents into editable formats such as Word, Excel and PDF. The software includes layout preservation, table recognition and image optimization features. ABBYY FineReader allows editing and correcting recognized text and supports multiple languages.
Readiris: Readiris is an OCR software for the desktop that extracts text from printed or handwritten documents and converts it into searchable and editable formats. The software has an intuitive user interface and implies a wide range of file formats, including PDF, Word and Excel. With Readiris the Scan and convert documents to multiple formats possible and all that in multiple languages as well.
OmniPage Ultimate: OmniPage Ultimate is an OCR desktop software that applies advanced text recognition features to accurately capture and convert text from scanned documents. The software allows conversion to various file formats, including searchable PDFs and e-book formats. OmniPage Ultimate has features for batch processing, image optimization and integration with Cloud storage services at Offer.
Advantages of OCR Desktop Software
PrecisionDesktop OCR software usually offers higher text recognition accuracy compared to online OCR services.
Confidentiality: Since processing is done on the desktop, sensitive documents are not stored on external servers, which increases data security.
Advanced functions: Desktop OCR software often offers advanced layout preservation, table recognition and image optimization features.
Disadvantages of OCR Desktop Software
Costs: Purchasing desktop OCR software may be costly, especially compared to free online OCR services.
Installation and update: Desktop OCR software requires installation and periodic updates if necessary, which takes time and effort.
Device dependency: Desktop OCR software is tied to the computer on which it is installed. This limits mobility. Online OCR services are more flexible in this respect.
Cloud-based OCR services
Google Cloud Vision OCR: Google Cloud Vision OCR is a powerful cloud-based service from Google. It has text recognition for printed and handwritten texts as well as recognition of objects and faces in images and documents in its repertoire.
Amazon Textract: Amazon Textract is a cloud-based OCR service from Amazon Web Services (AWS). It enables automatic extraction of text and structured data from documents in various formats such as PDFs, images and scans.
Microsoft Azure OCRMicrosoft Azure OCR is part of Azure Cognitive Services. This service includes a wide range of AI-driven capabilities, including OCR, for recognizing text in images and documents. It is also possible to use it for recognizing handwritten text.
Advantages of cloud-based OCR services
Scalability: Cloud-based OCR services can be easily customized to meet the unique needs of organizations. Resources are scaled as needed, saving costs and time.
Integration: These services often offer APIs and SDKs, which can be seamlessly integrated into existing applications and workflows, facilitating automation and data exchange.
Good to know -> With Konfuzio, both state-of-the-art technologies contribute to your success.
Updates and maintenanceCloud-based OCR services are regularly updated and maintained. This means users always have access to the latest OCR technologies without having to worry about maintenance.
Disadvantages of cloud-based OCR services
Privacy concerns: Uploading sensitive documents to the cloud triggers privacy concerns. Companies need to ensure that they have adequate security measures in place.
Dependence on Internet connection: Cloud-based OCR requires permanent Internet access. This becomes problematic in case of unstable internet connection or offline processing of confidential information.
Growing costsAlthough cloud services are scalable, they are also vulnerable to potentially increasing costs over time. Especially when processing large amounts of data, the potential price increase should be carefully monitored.
OCR costs in direct comparison
The costs for OCR vary greatly, depending on the individual requirements and the scope of the project. In the following table, we have compared the costs of the OCR providers presented for you and provide you with a deeper insight into the cost structures:
| | | | |
| --- | --- | --- | --- |
| Provider | Description | Price per page (standard) | Additional costs/functions |
| Google Cloud Vision OCR | Powerful OCR services from Google. | US$0.60 per 1000 pages | Depending on usage and location. |
| Amazon Textract | Cloud-based service from Amazon. | Variable, depending on volume and region | Processing volume influences costs. |
| Microsoft Azure OCR | Part of Microsoft Azure Cognitive Services. | $1.50 per 1000 pages | Depending on region and volume. |
| ABBYY FineReader | High quality OCR desktop software. | From $199 (standard version) | Prices vary depending on version and license. |
| Readiris | OCR software for the desktop. | From $99 (standard version) | Prices vary depending on the version. |
| OmniPage Ultimate | OCR desktop software with advanced features. | Prices upon request | Depending on the desired functions. |
| Tesseract OCR (Open Source) | Open source OCR engine from Google. | Free | Technical know-how for implementation. |
| FreeOCR | User-friendly, free OCR tool for Windows. | Free | No additional costs. |
| Online OCR services | Various online OCR services with web-based solution. | Varies (free or usage-based) | Costs may apply, depending on usage. |
| Konfuzio | AI-driven OCR solutions from Konfuzio. | Prices upon request | Depending on the project requirements. |
Status 09/2023
The OCR of Konfuzio
Konfuzio is a provider specializing in automated text recognition and data extraction. Konfuzio's OCR solution promises high accuracy and the ability to process different fonts and layouts. Konfuzio offers a web-based platform that helps companies process and analyze large volumes of documents.
The exact OCR Costs depend on various factors for Konfuzio. Among them are the number of pages to be processed and the type of data that will be extracted. There is a free trial version which allows you to extensively test the platform and test individual pricing models for your company.
Konfuzio OCR - Securities Settlement Application Example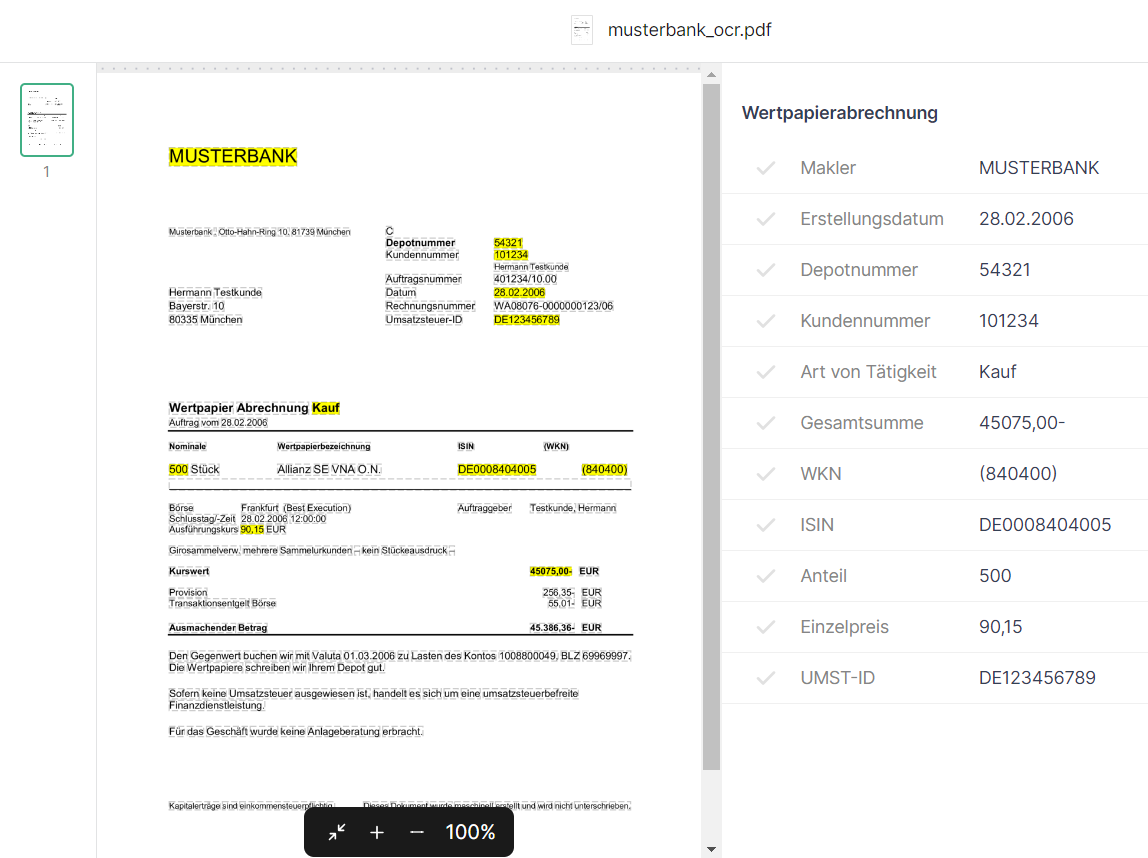 You want to get detailed information about OCR from Konfuzio? Read herehow exactly the technology works or contact our experts about the Contact form. The Konfuzio team will be happy to advise you on what you can achieve with a customized OCR solution in your company.
Why is Konfuzio the right choice from the OCR vendor pool?
Konfuzio not only excels in transparent pricing, but also provides customized solutions for your business or organization. The experts at Konfuzio not only understand that every business has unique requirements, but have been actively working to this ideology for years. Konfuzio OCR technology is customized and the implementation guarantees strict Privacy and security policies according to EU-DSGVO.
Factors influencing OCR costs
The cost factor of OCR is important, but not the all-important factor in implementation planning. When choosing a suitable OCR provider, it makes sense to consider other factors besides the basic costs, because these may also have a positive or negative effect on the financial investment in the short or long term.
Accuracy: Higher accuracy means less manual rework is required, which in turn saves costs.
Integration: Seamless integration into existing workflows increases efficiency and reduces costs.
Customer support: Good customer support is invaluable when problems or questions arise.
Security and data protection: The security of your data is always our top priority.
ScalabilityAs your OCR needs grow, your vendor should be able to grow with you - without incurring high extra costs.
Number of pagesThe number of pages you process is a key cost factor. The more pages you convert, the higher the cost.
Document typeThe complexity of the document also influences OCR costs. Handwritten texts or documents with complex layouts usually require more advanced OCR technologies and are therefore more expensive in direct comparison.
Accuracy requirements: If you need high accuracy in text recognition, this increases the cost of OCR. Most of the time, this aspect requires special settings and checks.
Integration: Integrating OCR into your existing IT infrastructure can also incur costs, especially if customization is required.
Conclusion
Overall, choosing the right OCR provider is critical. Only by carefully balancing all factors with the needs of your company or organization will you achieve the best results and actively control OCR costs. It is advisable to compare different offers and use trial versions to find the best provider for your specific needs.
Konfuzio is an interesting option for companies and organizations looking for a particularly powerful OCR solution. Remember that investing in high-quality and highly accurate OCR technology will produce the highest quality results, save money in the long run, and noticeably increase efficiency.
To learn what you can do beyond OCR technology with Artificial Intelligence (KI), please contact us at any time via the Contact form.