Your office staff doesn't have a degree in computer science? Your clerks don't have a programming degree? Of course not, because digital technology is not a means to an end for most teams but a tool to achieve their business goals. And these are not software development (unless they are developing software). Traditionally, this means that implementing digital platforms and adapting them in the enterprise requires a lot of additional costs for external consultants or internal IT teams. Complex programming languages are used to translate business processes into computer instructions. But what if this customization required nothing more than basic technical skills? What if the people who oversee the processes can also customize the applications? Then we are in the world of low-code and no-code solutions that are already revolutionizing the business world.
This article was written in German, automatically translated into other languages and editorially reviewed. We welcome feedback at the end of the article.
What is Low Code or No Code
The origins of low-code platforms go back as far as the 1990s. In the course of Rapid Application Development (RAD, "rapid application development"), the first tools were developed to create and extend application prototypes more quickly. Developers could use them to quickly try out and adapt ideas.
Over the past 10 years, technology giants and software specialists have extended this approach to a wide range of applications in the enterprise world. With the rise of Cloud Technologies, low-code platforms are suddenly universally accessible. Artificial Intelligence (AI) is also widely used to implement complex tasks without complex programming.
Many recurring processes follow similar patterns. Low Code or No Code provides a foundation for implementing these processes. It then allows employees to implement the actual requirements of their processes through graphical elements and simplified functions. They simply create their solutions themselves. A well-known example is the security officer at Heathrow Airport, who has independently implemented applications that make his daily work easier - without programming skills, thanks to a no-code platform that Heathrow implemented company-wide.
Advantages of Low-Code and No-Code at a glance
The benefits achieved through low-code or no-code applications encompass various aspects of the business and can be prioritized differently depending on the business organization.
Autonomy: Employees who are responsible for business processes can automate them independently. They often have a better overview of improvement potential within their area of responsibility. And it increases their efficiency, motivation and self-esteem.
FamiliarizationThe low-code platforms allow short training periods. Even employees without a technical background can implement ideas quickly. Often, the interfaces for defining business processes can be operated entirely without code.
Independence: The company makes itself independent of complex IT organizations or costly external developers for simple applications and processes. In addition, ready-made software products often specify the standard processes. Either the company adopts these, or has to factor in high investments for adaptations.
InfrastructureWith a centralized low-code platform strategy, companies can remove many small applications and tools that departments often use without central control. This increases IT security in the company and helps save licensing costs.
All in all, this results in financial and time savings, but above all in the flexibility to quickly adapt processes and offer employees a motivating work environment.
The limits of low code
Even when using low-code or no-code applications, companies must take care not to lose control over the security of data and the infrastructure. Clearly regulated system administration is necessary to remain compatible with internal and regulatory requirements. This could concern processed customer or employee data, for example.
Even though these platforms give employees a lot of freedom for implementation, the complexity of some processes is too high to implement them without more complex implementations. In this case, traditional programming must be used. And when selecting low-code applications or platforms, the company must be careful not to become dependent on one provider throughout the company. It is then easy for providers to adjust license costs, consulting fees, or contract terms to the provider's advantage. Better approaches here are "best-of-need", where specialized components can be selected and exchanged depending on expertise. For example, for financial process or document automation, a vendor can be selected that delivers the best results here.
The Top Low-Code Generalists and Hidden Champions
Power Automate - The generalist with ecosystem
Power Automate from Microsoft is the generalist among low-code platforms. For many years, Microsoft has been working on integrating its Office applications, cloud technologies and new services such as Power Apps to give companies a wide range of options for quickly adapting their applications to new processes and increasing efficiency in the company. This is particularly interesting for companies that already rely on Microsoft and use applications from the Dynamics 365 universe, such as Outlook or Excel. Simple database applications and automated workflows can thus be created quickly.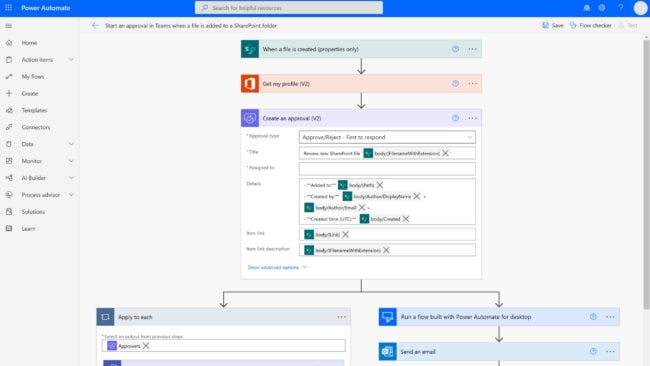 Mendix - The independent low-code platform
If you don't want to be dependent on a large provider and still want to be able to implement applications flexibly, you should Mendix consider. Even if the familiar ecosystem is missing here, Mendix as a generalist allows just as fast implementations of process automations, the construction of web-based portals or IoT applications. Developers can implement apps with visual editors almost code-free and deploy them in the cloud or their own IT infrastructure.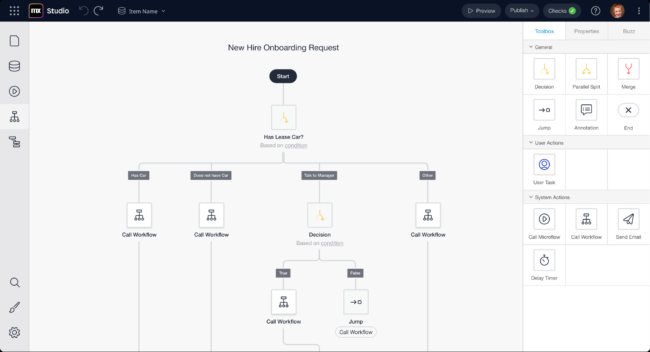 Zapier - No-code to integrate your applications
Zapier specializes in linking applications. With a repertoire of over 4000 applications ready for integrations, companies can create data and process links between them very quickly and without interface development. Due to the number of templates available, most likely all applications and platforms your company uses are linkable through Zapier. However, complex workflows, such as those enabled by Power Automate or Mendix, cannot be implemented to the same extent with Zapier.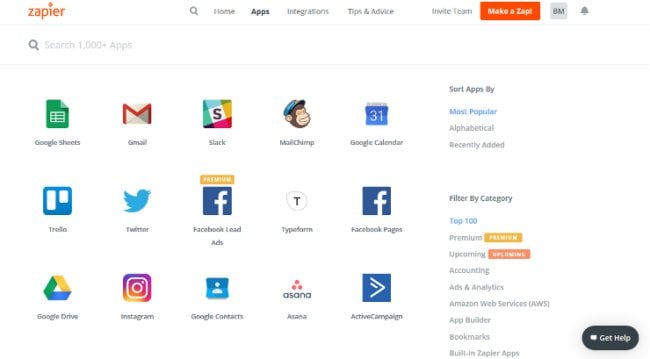 SimDia² - The SAP RPA Tool for No-Code Automation
With SimDia2 , developer ERSAsoft has created an automation solution for SAP that drastically simplifies processes regarding the management of master data, organizational data and transaction data in SAP landscapes. The goal is to facilitate the often complex modeling of processes for data capturing and maintenance as well as importing, exporting and migrating data from and to SAP.
With SimDia², process automations and data integrations between Excel and SAP can be implemented by SAP users quickly and without programming knowledge. Data can then be compiled directly in Excel and synchronized with SAP. This requires no modifications whatsoever to the SAP platform, which avoids administrative efforts or IT approval processes. It also pays off in terms of price, as SimDia² is significantly more affordable than the cost of specialized SAP consultants and developers.
Konfuzio - The Low-Code Document Automation Specialist
Konfuzio has established itself as a specialist for the automated processing of incoming documents. Document automation is a classic example of automation processes in the enterprise. From the creation, receipt and retrieval, to the processing of a document's information, there is a lot of potential for automating processes. Documents can be created, printed and sent automatically on the basis of database information (serial letters). Information from received letters can also be read, processed and stored automatically (Automated Data Processing).
In particular, the native integration of artificial intelligence into the automation processes makes Konfuzio a self-learning application that learns the algorithms itself to process exactly those documents that are relevant to the company. A few lines make it particularly easy to integrate Konfuzio's range of functions into existing IT landscapes. An exciting example of this, for example, is the direct integration into Outlook. The SaaS (Software-as-a-Service) licensing model makes costs transparent. No internal IT resources are required for hardware or maintenance. Should a company prefer integration with local hardware for strategic or security reasons, this is also possible.
Read more about Document Processing.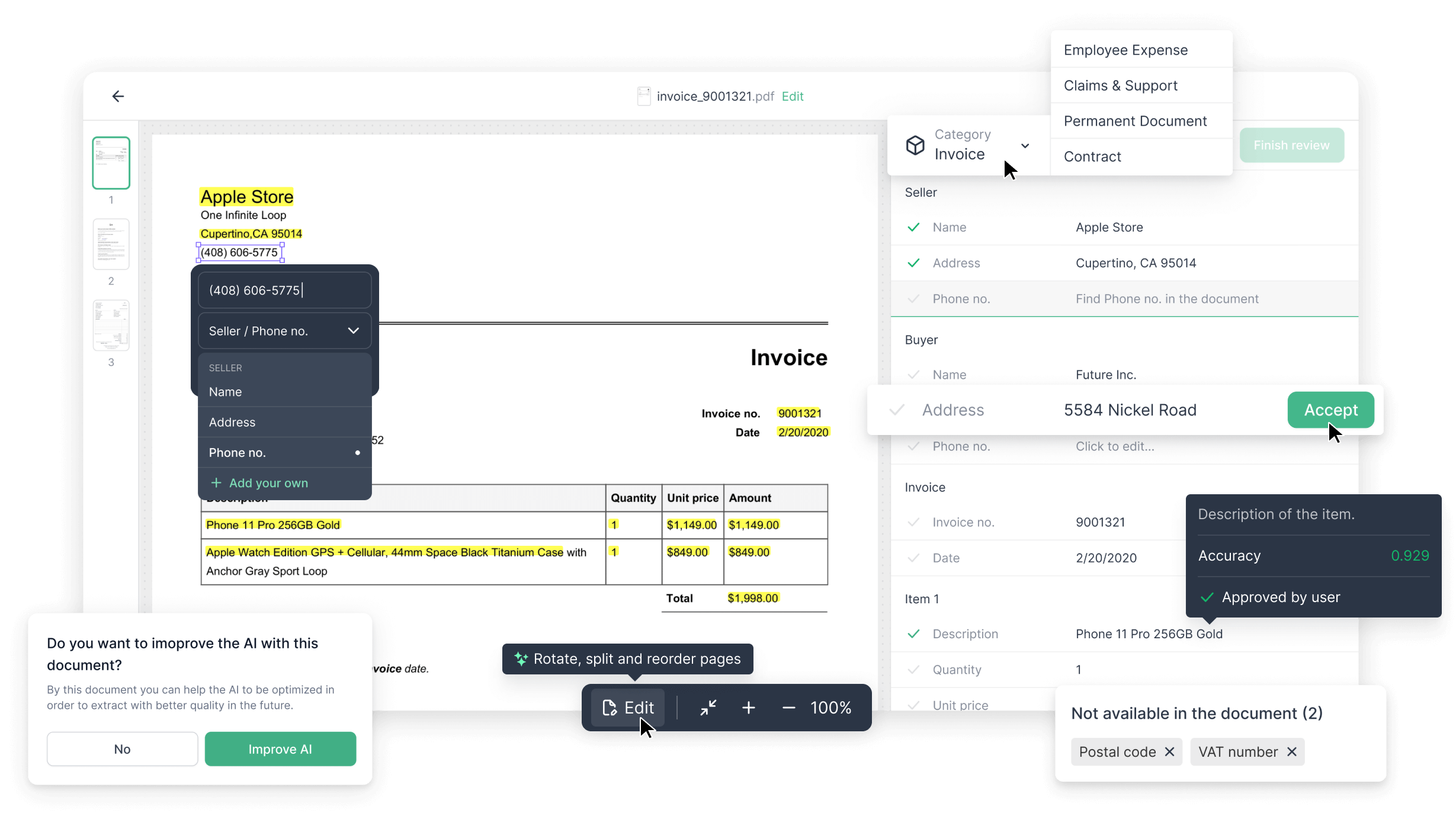 Conclusion
A large part of the daily processes within a company can be quickly automated with low-code or no-code applications. Even if they are not a panacea for complex processes, their simple operation and flexible usability help to implement business processes quickly and cost-effectively. And the big Offer to established low-code or no-code generalists and specialists gives companies the opportunity to dynamically adapt their systems to their actual needs. In the future, these tools will therefore become the standard, not the exception, for the strategic development of enterprise-wide IT.