The rapid development artificial intelligence (AI) has led to a wealth of investment opportunities. More and more companies are turning to AI to develop innovative solutions and gain competitive advantages. As a result, Ki stock trading has gained significant importance. In this blog article, we take a look at the most important Ki stock companies, analyze the opportunities and risks of this emerging sector, and venture a future forecast.
You will also learn about the opportunities and risks of AI trading and the investment potential of this market. We introduce you to the most successful AI stock companies.
This article was written in German, automatically translated into other languages and editorially reviewed. We welcome feedback at the end of the article.
Risks of AI shares
There aren't many pure AI stocks today because the technology is still in its early stages. And the companies that do use AI usually deploy it as part of a larger project.
A growing concern in this area is the redundancy of humans. Forecasts predict that AI will soon be able to replace most manual tasks. In the automation of warehouses and factories, this change can already be observed. If this leads to a significant increase in unemployment, government intervention could lead to a sharp slowdown in growth opportunities.
In addition, AI companies can make design errors. This is where Data Scientists "teach" AI. They use enormous Records, so that machines "learn" how to achieve a certain goal. However, if this data is compromised, the wrong lesson can be learned without being immediately apparent. This could lead to false shipments or cybersecurity breaches and unsettle markets.
All of the main threats to the AI industry stem from a single factor: Uncertainty. As this technology is still in its infancy, it is extremely difficult to predict its capabilities, so opinions about it are quite polar. This uncertainty makes investing in stocks and shares of artificial intelligence a risky proposition.
Opportunities of AI shares: trends and forecasts
According to Precedence Research the Market for artificial intelligence expected to exceed $1,597.1 billion by 2030, growing at a compound annual growth rate of 38.1 % from 2022 to 2030.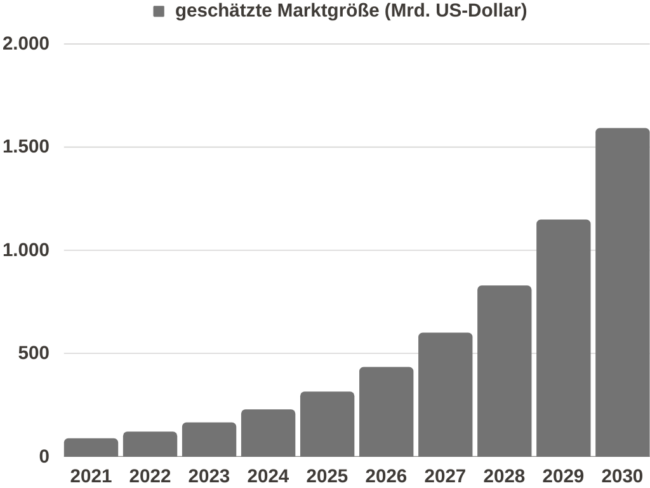 The global market for AI is estimated at $87.04 billion by 2021. The technology has been rapidly gaining traction since its introduction. Increasing demand in various industries such as retail, healthcare, food and beverage, automotive, and logistics is contributing significantly to the growth. Moreover, the increasing use of AI technology in the pharmaceutical production will have a significant impact on market growth in the coming years.
Biopharmaceutical companies are increasingly using artificial intelligence technology in various application areas such as research, drug discovery, and clinical trials. This is significantly increasing the demand globally. Moreover, increasing adoption of advanced digital technologies in various applications is supporting the growth. The ability of AI technology to self-learn based on the data and information stored in it is crucial in this regard.
Finally, the recent pandemic has demonstrated the benefits of automation and AI-powered operations. As more companies seek to optimize and streamline their processes, demand for this technology in its various forms will increase.
15 leading artificial intelligence stocks
The following 15 AI stocks are intended to provide a rough overview and do not represent a buy recommendation. Since the industry still holds many possibilities open, it is difficult to say in which stock an investment would be worthwhile. This depends on the risk appetite of the investor and individual wishes. We will then take a closer look at selected stocks.
| Share | ISIN | Symbol | Country | Market capitalization |
| --- | --- | --- | --- | --- |
| NVIDIA | US67066G1040 | NVDA | USA | EUR 356 billion |
| IBM | US4592001014 | IBM | USA | EUR 120 billion |
| Illumina | US4523271090 | ILMN | USA | EUR 29 billion |
| Electronic Arts | US2855121099 | EA | USA | EUR 32 billion |
| Salesforce | US79466L3024 | CRM | USA | EUR 121 billion |
| Zebra Technologies | US9892071054 | ZBRA | USA | EUR 12 billion |
| Alphabet | US02079K1079 | GOOG | USA | EUR 1179 billion |
| Splunk | US8486371045 | SPLK | USA | EUR 13 billion |
| Intuitive Surgical | US46120E6023 | ISRG | USA | EUR 89 billion |
| The Trade Desk | US88339J1051 | TTD | USA | EUR 21 billion |
| Palantir | US69608A1088 | PLTR | USA | EUR 12 billion |
| Crowdstrike | US22788C1053 | CRWD | USA | EUR 22 billion |
| Twilio | US90138F1021 | TWLO | USA | EUR 8 billion |
| Microsoft | US5949181045 | MSFT | USA | EUR 1,995 billion |
| Qualcomm | US7475251036 | QCOM | USA | EUR 117 billion |
6 AI stock companies and their performance
Microsoft
Software giant Microsoft invested $1 billion in OpenAI in 2019 as part of a partnership that made Microsoft Azure the exclusive cloud provider of OpenAI, and announced a new multi-year, multi-billion dollar investment in January 2023. Microsoft integrated ChatGPT into its Bing search engine in February, and thousands of customers are using an AI-powered version of Teams within months of its launch. Analyst Brad Sills believes AI and machine learning opportunities, accelerating growth of Azure and boosting premium sales of Office 365 will drive Microsoft stock higher.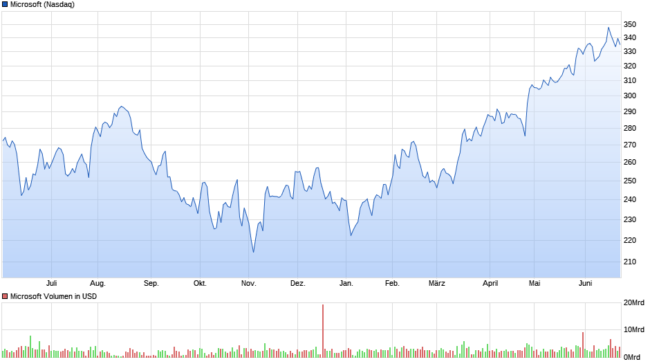 Alphabet (Google)
Google and YouTube's parent company, Alphabet, is using AI and automation in virtually every aspect of its business, from ad pricing to content promotion to Gmail spam filters. In March, Google launched its AI chatbot, Bard. According to analyst Justin Post, the latest data from Statcounter shows that Google's search engine market share is now 93.1 %, compared to just 2.8 % for Bing. According to Post, Google will be a big beneficiary of AI in the long run, thanks to its leading AI-based advertising technology, as well as its data and distribution advantages.
Nvidia Corp.
Nvidia is the pioneer in the field of graphics processors. But the technology has also proven itself for advanced AI models. One important reason is that GPUs can process a huge amount of data in parallel. For Nvidia, it was wise to invest heavily in the AI market. The result is that its GPUs have become the standard, with offerings like the A100s and H100s.
However, the success of one of the best AI stocks on Wall Street is not only based on sophisticated chips. Nvidia has the Cuda software development system and various AI libraries. This gives the company a global ecosystem of AI researchers and developers.
Nvidia is still primarily a chip maker in terms of current revenue. But its efforts in various AI disciplines could organically grow to a large percentage of revenue and also increase demand for its chips.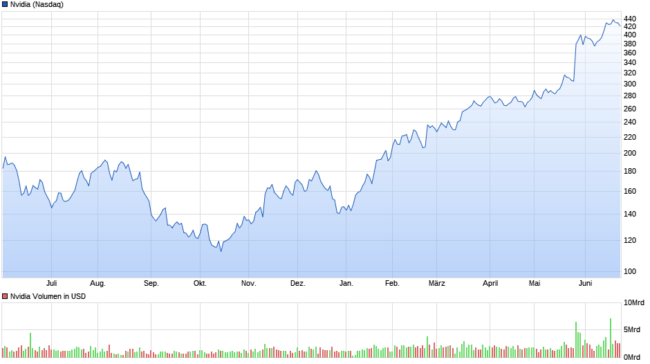 IBM
This legacy technology company is an integrated provider of hardware, software and services to large enterprise customers. Its mainframe systems are still ubiquitous in certain industries, and it regularly signs multi-year technology contracts worth hundreds of millions of dollars each.
IBM's strategy in artificial intelligence is to use technology in ways that complement human intelligence, increase efficiency or reduce costs. In the healthcare industry, IBM's AI technology is being used to create personalized care plans, speed time to market for new medications, and improve quality of care. In the financial services industry, IBM is using AI to help clients comply with financial regulations through its 2016 acquisition of Promontory Financial Group.
Market research firm IDC ranks IBM as the market leader in AI software platforms with a market share of 13.7 % in 2020, up 46 % from the previous year.
Amazon
There is probably no company that uses AI as intensively as Amazon. Although Amazon began as an online retailer, technology has always been at the heart of the company.
Today, Amazon uses artificial intelligence for everything from Alexa, its industry-leading voice-controlled technology, to its cashierless grocery store Amazon Go, to Amazon Web Services Sagemaker. This is a cloud infrastructure tool that provides high-quality machine learning models for data scientists and developers.
Amazon's e-commerce business also relies on AI as algorithms power its world-class recommendation engines for e-commerce as well as video and music streaming. In addition, Amazon uses AI to determine product rankings.
Even Amazon's logistics benefits from its AI capabilities, which help with scheduling, rerouting, and other ways to improve delivery accuracy and efficiency. Drone shipping, which the company has long sought, would be another AI application for the tech giant.
It is difficult to quantify the impact of AI on Amazon's business, but it is clearly a key component of the company's competitive advantage. Throughout its history, Amazon has been at the forefront of new technologies such as e-commerce, e-books, cloud computing, video streaming and voice-driven technology. AI provides much of the infrastructure that helps the company move quickly and effectively into new business areas.
Palantir Technologies
In PayPal's early days, the company nearly failed due to rampant fraud on the platform. But co-founder and CEO Peter Thiel implemented sophisticated analytics and artificial intelligence to mitigate the problems. These systems worked so well that PayPal was sold to eBay in 2002 for $1.5 billion.
Thiel realized there were other applications for AI technology, such as systems to detect terrorism or battlefield threats. He took some of the fortune from PayPal's profits and founded Palantir Technologies.
Although government remains important to Palantir - especially in the context of the wars in Afghanistan and Iraq - the company has now expanded into commercial markets. They include industries such as healthcare, energy and manufacturing.
The core is the Foundry system. Palantir views it as an operating system for a company's data. The system also helps create, deploy and manage AI models. Tyson Foods, for example, achieved annual savings of $200 million over a 24-month period.
In the third fiscal quarter, Palantir reported a $22 % increase in revenue to $478 million and a 66 % increase in customers. Adjusted free cash flow was $37 million, positive for the eighth consecutive quarter.
Should I invest in AI stocks?
Naturally, investors are concerned about who will come out on top in the end. It may seem like a safe bet that it will be one or a combination of Amazon, Alphabet, Facebook and Microsoft, each of which has almost unlimited resources. But it's hard to say for sure.
History is full of examples of companies that once held a dominant position in an industry and then faltered and were weakened forever. Yahoo! was once synonymous with the Internet and the leading search engine. Today, the company has only a little more than 1 % share of that market. Therefore, the information in this article is not an investment recommendation, but an overview of opportunities and risks about this new and volatile market.
FAQ
What are the AI stocks?
There are several AI stocks that are traded on various exchanges. Here are some examples of companies that are in the artificial intelligence space: Alphabet Inc (Google), Amazon.com Inc, Microsoft Corporation, NVIDIA Corporation, International Business Machines Corporation (IBM).
Which stocks benefit from AI?
Google uses AI algorithms for various applications such as search engine optimization, speech recognition and machine learning. Amazon uses AI for personalized product recommendations, logistics optimization, and voice assistants like Alexa. Microsoft is active in AI with its AI framework called Azure AI and products like Cortana and Office 365. NVIDIA Corporation: NVIDIA makes high-performance graphics processing units (GPUs) that are used in many AI applications, such as training and running deep learning algorithms.
Which AI Stocks to Buy?
There are three types of AI stocks that may be of interest to investors:
AI stocks of companies with big data, such as Facebook, Amazon, Google, and Twitter, that have direct contact with customers. AI stocks of emerging companies that may soon have similarly large amounts of data, such as Veeva Systems, a cloud computing company. Or AI stocks of companies that help other companies collect data. As an alternative to individual stocks, AI ETFs (exchange-traded funds) could also be considered to invest in multiple AI companies and minimize volatility and risk.