Digital transformation offers companies numerous opportunities. In order to take advantage of these, 87 percent of executives in Germany consider artificial intelligence (AI) to be an important pillar for the future of their company. The focus today is no longer on introducing AI, but on using it to create value and implement goals (Study by Deloitte from 2022).
To implement this successfully, companies need the right applications. We will show you 4 important German software companies that you can use to decisively drive the digital transformation in your company.
This article was written in German, automatically translated into other languages and editorially reviewed. We welcome feedback at the end of the article.
The most Important in a Nutshell
Companies face technological, organizational, data protection and regulatory challenges in the digital transformation.
Artificial intelligence helps automate tasks and processes, provide data-driven insights, and improve customer interactions, among other things.
Important German software companies for digital transformation are Konfuzio, IP Dynamcis, ecm.online and DataSpark.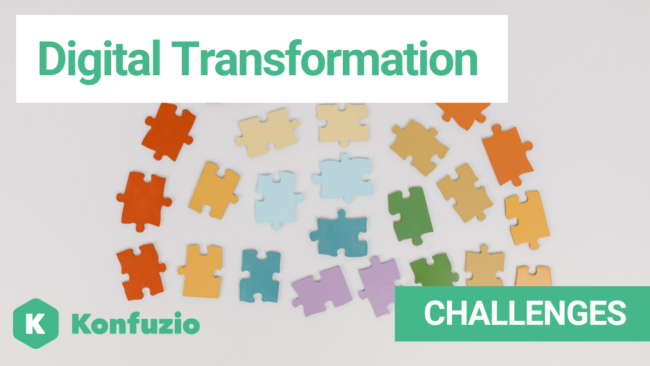 The Challenges and Opportunities of digital Transformation
Digital transformation touches almost all areas of business, so companies are facing a number of new challenges, but also new opportunities. These include, above all:
| | |
| --- | --- |
| Challenges | Opportunities |
| Technology: The introduction of new technologies requires significant investment and technical expertise. German software companies need to select the right technologies that fit their business objectives and ensure that they have the necessary expertise to use these technologies effectively. | The introduction of new technologies helps companies to work more efficiently, improve their products and services, and open up new markets. |
| Organization: Digital transformation often requires a change in organizational structure and culture. Companies need to be agile and flexible to adapt to the rapidly changing digital environment. | Changing the organizational structure and culture leads to more agility, improves collaboration and promotes innovation. |
| Employees: With the introduction of new digital technologies, the need for employees with digital skills is also increasing. German software companies face the challenge of training their employees or hiring new staff with the necessary skills. | Training employees or hiring new staff with digital skills helps the company stay competitive and drive its digital transformation. |
| Privacy and security: As digitization increases, so does the risk of data breaches and cyberattacks. Companies need to implement robust security measures to protect their data. | Robust security measures strengthen customer confidence and help ensure that the company is perceived as a trustworthy partner. |
| Regulations: Companies must comply with a wide range of regulations that relate to digital technologies, such as the General Data Protection Regulation (GDPR) in the European Union. | Compliance with regulations such as the GDPR helps to ensure that the company is perceived as responsible and trustworthy. |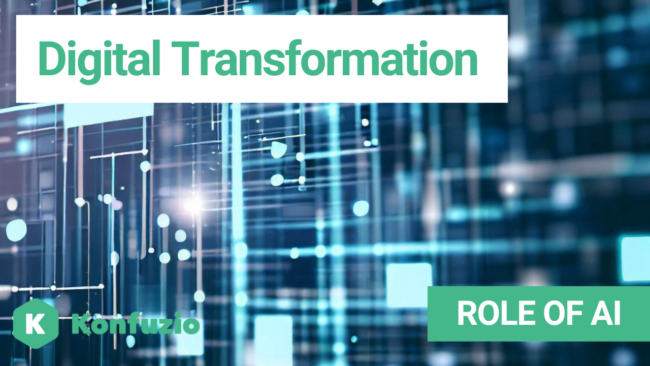 The Role of AI in digital Transformation
Artificial intelligence plays a crucial role in meeting the challenges of digital transformation. Companies benefit from the use of AI in the following ways:
Task automation
AI automates routine tasks, increasing efficiency and reducing costs. In the manufacturing industry, companies use robots with AI algorithms to automate repetitive assembly tasks, which increases production speed and reduces production costs. In accounting AI systems automatically process invoices and receipts and assign them to the appropriate accounting categories, such as revenue from paying customers or expenses for suppliers. This reduces the manual workload.
Data-driven insights
AI is able to analyze large amounts of data and extract valuable insights from it. Based on these, companies make informed and educated decisions. In practice, for example, e-commerce retailers use AI to analyze their customers' click behavior and purchase history to generate personalized product recommendations. In healthcare, AI algorithms search large medical databases and recognize patterns in disease diagnoses, leading to new insights in medicine.
Improve customer interaction
Companies use AI to create personalized customer experiences by analyzing customer behavior and preferences. Chatbots using AI are in use in customer service departments to answer frequently asked questions and handle customer inquiries around the clock. Streaming services such as Netflix use AI to generate individual movie and series recommendations based on the streaming behavior of their users.
Support in decision making
AI recognizes complex data patterns to make predictions that help executives make strategic decisions. In practice, for example, financial institutions use AI to develop trading strategies and make predictions about the financial market. This helps them make more informed investment decisions. In transportation, AI models analyze traffic flow in real time and optimize route suggestions to avoid congestion.
Innovation promotion
AI opens up new opportunities for products and services, helping to create new business models. Pharmaceutical companies, for example, use AI models in research and development to identify new drug candidates and accelerate the development process. In the creative industries, companies are using AI to foster new artistic approaches, for example in the generation of music or art.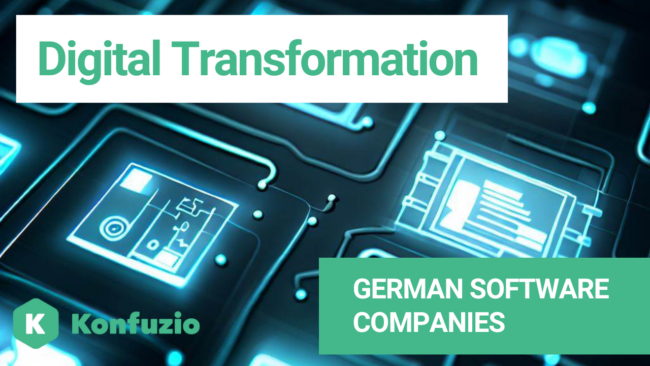 German Software Companies for digital Transformation
So it's obvious: The answers to many questions and challenges of digital transformation can be found in the value-adding use of AI. The following 4 providers are established on the German market and have proven to be a driving force for companies to act more efficiently, customer-friendly and competitive with AI:
Konfuzio
Konfuzio is a German software company specializing in solutions in the field of intelligent document processing and text recognition. It helps companies and public institutions to process, analyze and understand large volumes of documents and texts in an automated way. Konfuzio serves a wide range of customers from various industries. These include renowned corporations from the financial, healthcare and insurance industries.
How Konfuzio helps companies with digital transformation
Konfuzio is a leading AI platform that transforms unstructured data into insights and accelerates information and processes across hybrid multi-cloud infrastructures.
In practice, this is how Konfuzio drives value from AI, improves collaboration, and makes it easier to manage compliance, security, and costs.
To this end, the German software company offers its customers the following functions and features, among others:
Intelligent document processing
Konfuzio offers advanced, field-proven solutions for automated document processing, such as invoices, contracts, forms and reports. The software is able to recognize, extract and classify text content, which significantly reduces manual data entry.
Text recognition (OCR)
The German software company has powerful Optical Character Recognition (OCR) technologies that enable printed or handwritten texts to be converted into digital text. This is particularly useful for companies that need to digitize large volumes of paper documents as part of their digital transformation.
Automation of business processes
Konfuzio helps companies automate business processes by automating the extraction of information from documents and integrating it with existing systems. This improves the efficiency and accuracy of workflows.
AI Cloud
The German software company helps its customers build a robust and scalable infrastructure for implementing AI Clouds. To do this, Konfuzio leverages the latest technologies and models to deliver innovative data management and machine learning solutions in the cloud.
AI Marketplace
Konfuzio offers its customers an AI Marketplace.It helps companies meet the challenges of AI development. To this end, companies can find solutions from proven experts in their respective fields on the marketplace. In practice, this means that companies can efficiently find the right AI solution and use it immediately for their challenges.
Register now for free on the Konfuzio marketplace and try it out!
IP Dynamics
IP Dynamics is a German software company specializing in network and security technology solutions. Customers are able to optimize, protect and efficiently manage their networks with the vendor. IP Dynamics serves companies of various sizes, including those in the financial, healthcare, education and government segments.
How IP Dynamics helps companies with digital transformation
The German software company primarily supports its customers in optimizing and automating business processes through customized IT solutions. Customers thus relieve their employees of repetitive tasks and create space for better use of their resources. To this end, IP Dynamics has these functions and features, among others:
Network Security
IP Dynamics provides enterprise network security solutions. These include firewall systems, intrusion detection and prevention systems (IDPS), and virtual private network (VPN) solutions that help protect corporate data from cyber attacks.
Network Management
The German software company develops tools and software solutions for the efficient management of corporate networks. This includes network performance monitoring, network resource management and connectivity optimization.
Cloud solutions
IP Dynamics offers cloud-based services that help companies migrate to the cloud and manage their cloud resources. This enables them to work in a more flexible and scalable way.
Consulting and support
In addition to its products, IP Dynamics also offers consulting services to help companies plan, implement and maintain their network and security infrastructure. The German software company provides comprehensive technical support in the process.
ecm.online
ecm.online is a German software company specializing in document management systems (DMS), enterprise content management and archiving. Companies use the software to manage and organize documents and information, archive files electronically, and manage workflows. ecm.online has customers in the healthcare, public sector, and industry, among others.
How ecm.online supports companies in digital transformation
The German software company relies on the following functions to support its customers in their digital transformation:
Document Management
The ecm.online software enables companies to capture, organize, store and easily access documents in electronic form. Using the "iSearch" search function, companies can find important information in seconds. ecm-online thus helps to reduce paper mountains in companies.
workflow management
The solutions from ecm.online support companies in automating and optimizing their business processes. This includes, for example, the release of documents and the approval of orders.
Electronic archiving
The software enables companies to archive documents and information securely and in compliance with the law. This is particularly important for the long-term storage of business documents. The GoBD functions provided ensure that data and documents cannot be changed. However, if a change needs to be made to a document that has already been archived, the audit-proof change history ensures that all processing steps are logged. In practice, this means that companies document a seamless process chain for the tax authorities in an audit-proof manner.
DataSpark
DataSpark is a German software company specializing in Advanced Analytics and Intelligent Automation. Its main goal is to help its customers make data-driven decisions and optimize their business processes as part of their digital transformation. Data Spark serves well-known customers of different sizes and industries.
How DataSpark helps companies with digital transformation
To support customers in their digital transformation, DataSpark has a wide range of data analytics and data management services. This includes these functions, among others:
Advanced Analytics
In an increasingly competitive market environment, it is crucial for companies to anticipate the needs of customers and business partners and stay one step ahead of the competition. To gain the insights required for this, DataSpark uses analysis methods based on machine learning and applies them to known as well as previously untapped data sources.
Intelligent Automation
Classic Robotic Process Automation (RPA) can be quickly implemented by companies for simple tasks. But when it comes to more complex processes, such as credit decisions, companies need machine learning in their workflows that takes into account the interaction of AI and humans. This is where DataSpark comes in with its AI expertise and implements sophisticated RPA solutions.
Predicting customer lifetime value
Many financial institutions, led by direct banks, are already using data-driven approaches to segment customers that result in higher overall value. Using machine learning, companies are taking a much more accurate approach to estimate the future value of specific, individual customers.
Intelligent document processing
The majority of all business data is embedded in unstructured formats such as paper documents, emails, images and PDFs. Intelligently extracting and structuring information from these sources is the gateway to automating many business processes.
Do you have questions about using AI for your digital transformation? Then talk to one of our experts now!