Let an AI assist you in document review, not only make it efficient, but also use it to optimize the entire document management workflow.
Manual document review in the enterprise is one of the factors that takes up an enormous amount of time in document processing, not only exhausting your most important resource, the employees, but also being very error-prone.
Examples of the application of document verification in everyday and professional life, are:
Document check of passengers on Lufthansa flights
Onboarding customers
Commercial lending
In this article, you'll learn what document review with AI is all about and how you can use it in your business.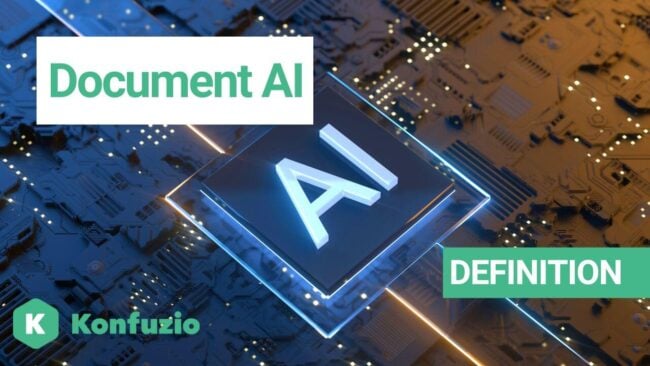 What is document verification via Document AI?
"Document AI", also known as Document AI, refers to technology that digitizes and automates the classification, capture and validation of documents.
In concrete terms, this means that all relevant information is automatically read from documents and records and transferred into structured data. The AI uses the toolset that you have previously trained it to use.
This results in the following advantages for your company:
Increased efficiency: By eliminating manual tasks in document review, your employees can focus on other tasks.
Better accuracy: AI for documents can reduce the risk of error associated with manual data entry, resulting in more accurate data and better decisions.
Improved Compliance: AI in documents can help you ensure compliance by accurately extracting data from documents and making it easily accessible for audits and other compliance checks.
Better Insights: AI in documents helps your organization gain insights from big data by extracting and organizing relevant information quickly and accurately.
Increased safety: Document AI makes it possible for you to protect sensitive data by storing and processing documents securely and ensuring that only authorized personnel have access to the extracted data.
With a document AI, you can not only read and digitize documents, but also have them checked customized to the individual specifications of your document review.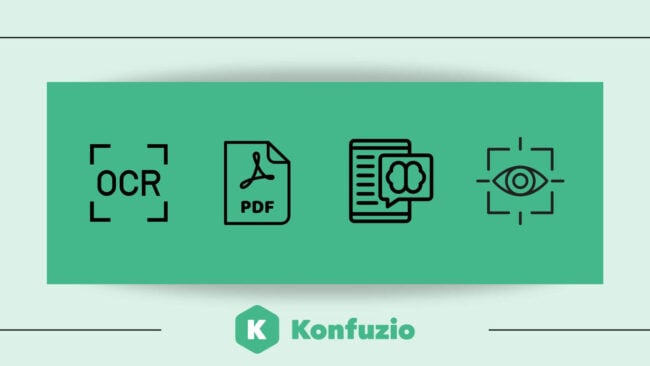 How does document verification work?
To ensure that the document review process is as error-free and fast as possible, various technologies are used, including, for example:
OCR (= Optical Character Recognition)
Data parsing (= converting the data into suitable formats)
Machine Learning (= machine learning)
Computer Vision Technology (= machine visual vision, used for images)
In your company, document verification of an invoice may proceed as follows, for example:
Digitize invoice
Archiving
Intelligent invoice reading with OCR with Konfuzio
Classification & matching of master data
Digital invoice verification
Digital invoice approval
Booking / Interfaces
Based on the results of the AI, the content of the document is reviewed.
It is an advantage if you are not bound to fixed structures. Use an AI that you shape yourself and that you can teach which data on the document is relevant and which is irrelevant. This way, you streamline the workflow and optimize document management individually for your software or processes.
Use Cases of Document Verification
Document review can check documents differently depending on the use cases and thus address the individual requirements of each area.
Digital mailroom
The digital mailroom ensures faster communication through automation.
In manual mail processing, everything depends on the employees. If they do not work efficiently or are overloaded, the delivery of mail can be impaired.
When this time-consuming manual aspect is replaced by document verification, the entire company benefits.
Automation results in greater productivity, more transparency and better control in the mailroom. At the same time, employees are relieved by the elimination of manual mail processing.
The digital mailroom can be used across all industries in the mailroom.
Digitization of archive material
The paper form makes it difficult to deal with archive records. Such data in paper form and more or less clearly sorted in filing cabinets in the archive is not or only very difficult to search, which is why searching for required information is almost impossible.
But once the documents are digitized, the information contained in the records can be automatically captured, extracted, validated, and ultimately delivered to workflow systems or to the preferred document management applications, for example, through an electronic full-text search.
This eliminates the need for manual data entry, speeds up document processing, and reduces document storage costs.
There are different requirements for archiving, depending on the type of document. They must be retained for either six or ten years:
Retention period six years:
Delivery notes
Reminders and dunning notices
Trade letters
Copies of sent business letters
received business letters
Company audit reports
Declarations of assignment
Retention period ten years:
Balance sheets
Annual Reports
Accounting documents
Bank receipts
Inventories
Import documents
There are also Guidelines, which you should pay attention to during the retention periods.
The following areas of application exist for the digitization of archive material:
Human Resources: Automated document archives can be used to store and organize employee records such as resumes, job applications, performance reviews, and training records.
Law: Automated document archives can be used to store and organize legal documents such as contracts, patents, and court records.
Finances: Automated document archives can be used to store and organize financial documents such as invoices, receipts, and tax records.
Healthcare: Automated document archives can be used to store and organize medical records such as patient files, treatment plans, and insurance records.
Authorities: Automated document archives can be used to store and organize government documents such as census data, voter registration records, and legislative documents.
Handwriting extraction
For most companies, capturing handwritten notes is both time-consuming and error-prone. Particularly in government agencies, healthcare facilities, financial institutions and companies, handwritten forms are more common than one might expect.
To easily digitize handwriting, the following technologies are used:
Native intelligent character recognition (ICR)
Optical Mark Recognition (OMR)
Intelligent Key Value Extraction
Advantages:
Automation of a time-consuming manual work process
Lower error rate
Faster processing time
ID extraction
Proofs of identity can include driver's licenses, ID cards, passports, visas, health insurance cards, barcodes, international documents, tax forms, credit forms, and personnel and patient records. Manual entry of all data is error-prone and monotonous across industries.
Document verification allows IDs to be read faster, verified more reliably, and used conveniently online or via app.
Use cases include:
Admission and anamnesis of patients in the health care system
Efficient onboarding of new employees in the application process
Financial services provider
Advantages:
Automation of a monotonous process that is error-prone when processed manually
Standardized procedure for document verification of IDs and thus high accuracy in detecting fraud attempts
Large quantities of IDs can be checked quickly
Claims processing
Reinsurers and primary insurers, but also brokers and pools, know claims handling as a claims processing process that is relevant for the policyholder but critical for the margin.
Instead of manual processing and checking of the data, the digital document check also takes effect here. It digitizes the documents and checks whether any information is missing. The data can also be exported to systems of all kinds. This means that applications of all kinds can be checked and processed quickly and efficiently.
Credit Processing
Document verification can provide higher productivity and service quality in loan processing. This is achieved by automatically checking documents for completeness and capturing the correct data. Thus, you ensure that the customer experience does not suffer from the demanding processing.
Document verification can be used, for example, when processing credit applications or onboarding new employees.
Onboarding customers
With fast onboarding, you ensure a satisfying customer experience. This type of document review is particularly suitable for banks and insurance companies, but also for all types of companies with end-customer contact that first need to carefully review documents before accepting customers.
Significantly more efficient will be, for example, account opening, digital document submission or AI-based document classification.
The following advantages result from the document review:
Regulatory compliance and standardization for customers around the world
Significant reduction of errors that occur during manual data input
Faster processing and provision of new account data and thus greater efficiency
Human Resources
Human resources has to deal with a lot of paperwork, especially when onboarding new employees. To focus more on a positive employee experience, HR can be streamlined through document review.
Areas of application include:
Global HR functions
Recruitment
Talent Management
Onboarding
Personnel planning
Payroll accounting
Procure-to-Pay
Procure-to-pay (P2P) integrates a company's systems from procurement to accounting into an efficient, end-to-end process.
Document verification allows you to streamline the selection of goods and services, review and approval of purchase orders, goods receipt and order confirmation, and invoice processing and payment.
You can use the following functions:
Classification of documents: AI can automatically classify and categorize documents based on their content, making them easier to organize and manage.
Data extraction: AI can be used to extract data from documents, such as supplier information, order details, and invoices, and populate the appropriate fields in a procurement or financial system.
Invoice Processing: AI can be used to automatically process invoices, including matching against purchase orders, verifying accuracy, and routing for approval.
Risk Assessment: AI can analyze documents and identify potential risks, such as non-compliance with procurement regulations or contract terms.
Automation of workflows: AI helps automate the routing of documents through a procurement or finance system, triggering actions and notifications based on document content and process status.
One example of this is the iflow software from Ritter Technologie GmbH. With Konfuzio, the company has implemented an application for digital invoice verification. Find out how this works and how document verification performs in practice here: Digital invoice verification from iflow.
Invoice processing
Invoice processing involves a lot of manual handling, resulting in delayed payments. Document verification optimizes this process and enables you not only to read invoice data quickly, but also to verify it.
Compliance
To comply with ever-changing privacy and data security regulations, organizations must be able to ensure compliance with policies and procedures.
The challenge here is to check the documents for technical, legal and formal correctness. This can look like this, for example:
Do the documents look the same after the update as before?
Do they also meet all the criteria with regard to compliance testing in the new software version?
To manage this complexity, you can use document validation. This validates documents against defined sets of rules, compares them directly with each other, and determines the extent to which the changes affect the quality of the finished document. Even the smallest changes are detected by the software.
In addition, data can be securely extracted through document review and transported to other applications and filing systems. There, they are searchable at any time, which at the same time minimizes the risk of sensitive information being disclosed to external parties.
Advantages of document verification with AI
With the Document Validation UI (=document validation via AI), you can automate your business processes even more easily. An integrated feedback function increases the straight-through processing of your documents and at the same time relieves your employees.
You'll also enjoy the following benefits when you let AI support your document review and management:
Selective rechecking: Possibility to view documents and correct them manually if necessary, e.g. if data or details have changed.
Continuous learning through use: AI learns from manual corrections and applies them directly to the next document.
Comprehensive toolset for all users: Your employees can access additional tools, e.g. separate, sort or rotate pages, even without technical know-how.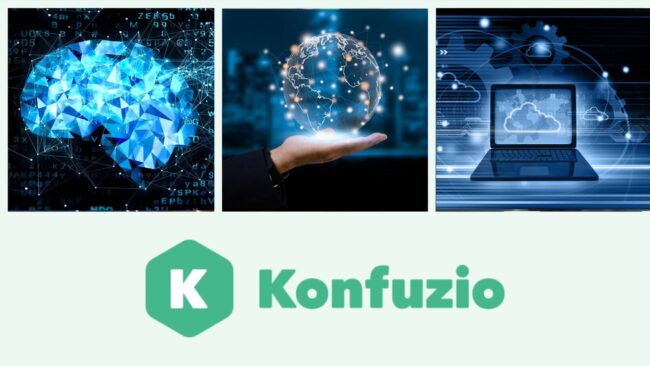 Document verification by IDP software with Konfuzio
Konfuzio is an IDP software that goes beyond just text recognition and also offers document verification. The Intelligent Document Processing (=IDP) consists mainly of the AI based OCR application.
At its heart is optical-semantic AI (Hybrid AI), which you can easily customize via the Konfuzio user interface. It combines OCR (optical character recognition), NLP (natural language processing) and CV (deep learning for computer vision).
Document verification can be applied to the following types of documents, for example:
Konfuzio is aimed primarily at system houses, consultancies and companies in various industries. The many integrations and intuitively applicable functions ensure a smooth start in your company. You can also choose between a cloud-based or on-premises solution.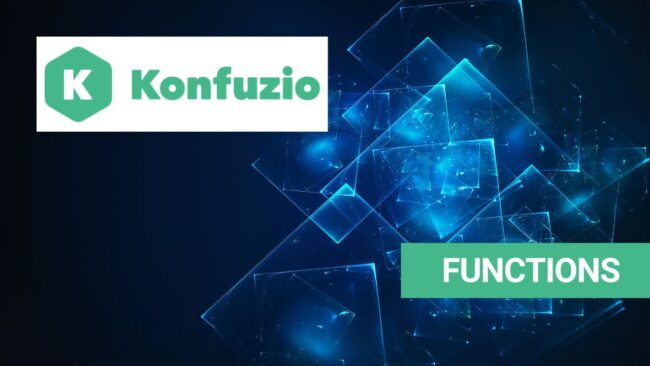 Functions
In document review, Konfuzio offers the following functions, for example:
Fully customizable data model by configuring the fields without programming
Data Extraction Validation and AI Feedback for continuous learning of the AI
Automatic categorization of documents: Define your own categories and document types, e.g. by keywording and categorizing documents.
Document splitting by automatically separating, splitting, and rotating batches of documents, e.g. suitable for digital files and large scans
Continuous improvement of the AI through human feedback
Together with the other document management functions, these fit seamlessly into your workflow:
Input management for the processing of your mail and e-mail receipt
Thanks to document classification a Automatically categorized filing
Extract emails with attachments, e.g. Orders or travel confirmations
Preparation for DMS/ECM and Document archive
Sophisticated indexing and search functions for easy automatic storage, processing and retrieval of documents
Particularly accessible software documentation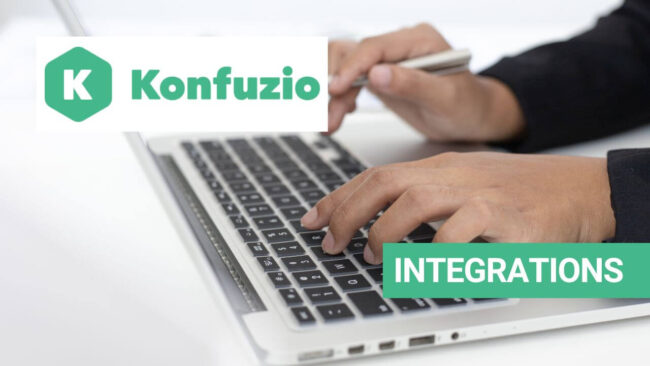 Integration
Integrations are important to ensure that document review seamlessly and effectively supports your business.
The following integrations of Konfuzio support the application of document verification in your company:
REST API for online OCR with AI
RPA for intelligent document automation
Web UI for no-code training
Document extraction with the Python SDK
Konfuzio also provides the following interfaces:
Google Docs
Microsoft Teams
Microsoft Excel Power Query
Airtable
Numerous other RPA, ERP or CRM systems
Document verification and IDP software for comprehensive document management
Konfuzio combines efficient document management with individual document verification. In concrete terms, this is demonstrated in practice by the following:
No hardcoded rules
Customizable AI
No rigid layouts
Scalable
Scanning of documents & images possible
The prices of the software vary depending on the scope of use and installation environment. You can find the prices in the current Price list.
Conclusion: Document verification with AI is simple and efficient!
Without support, document verification requires a lot of capacity in your company. And even then, neither efficiency nor freedom from errors is guaranteed.
For this reason, you should get a suitable software to help you. With Konfuzio you'll have a comprehensive document management application that not only takes care of categorizing your data, but also makes document verification easy thanks to AI.
A fast-learning AI that you can train for your unique use cases is the gamechanger to optimize your document review.
How has your document review been structured so far? Is it perhaps time to get some help? Feel free to post your questions and opinions in the comments!