Since the beginning of any business process, the processing of documents has been essential to entrepreneurial activity. Organizing and processing them traditionally ties up a lot of resources and creates numerous manual and repetitive workflows. The solution: an effective and intelligent DMS workflow. This is the basic prerequisite for powerful document management, which sustainably ensures a higher speed of business processes and at the same time relieves employees.
Particularly in view of ever-increasing documentation requirements and high competitive pressure, digital DMS solutions represent a decisive competitive advantage. A powerful document management system ensures clear and transparent data storage of customer and process information. The use of intelligent workflows can also sustainably and reliably increase process speed as well as revision and compliance security.
This article was written in German, automatically translated into other languages and editorially reviewed. We welcome feedback at the end of the article.
All the advantages of modern document management at a glance:
Digitization of customer and process information
Automated and structured data storage
Automated further processing in internal and external processes
Digital customer files with all relevant information
Transparent cooperation and relief for employees
What is a modern document management system (DMS)?
DMS is the abbreviation for "Document Management System". This is a comprehensive solution for digitally capturing, managing and archiving documents. A DMS provides structured customer and process files and not only makes searching for documents much easier - it also increases their security and enables further processing in workflows. To this end, a DMS feeds data and information from many different types of documents into downstream systems, where they can be stored in a structured manner and processed intelligently.
But digital solutions alone are not enough to successfully meet the requirements of a modern business world. Only by combining them with artificial intelligence can a mass of unstructured data be turned into information that can be further processed in a process-optimized manner, thus ensuring maximum efficiency in the processes. In this way, a holistic digital transformation can be realized via digital document management.
What is a DMS workflow?
A document management workflow is a digital workflow that runs automatically and thus maximizes the speed of processes in companies. The aim is to facilitate collaborative working and make processes as effective as possible. In the case of a document management workflow (DMS workflow), these processes refer to workflows that involve the processing of documents. Data can be captured and evaluated and automatically forwarded along the process chain. The relevant information of the documents is read out, extracted and transferred to internal databases in a meaningful way. In addition, the documents are automatically forwarded to the responsible processors or groups within or outside the company as part of a workflow based on defined parameters (category, project, customer number, etc.).
The consolidated informations not only serve to make many processes more efficient. Strategic decisions can also be made on the basis of qualified information, thus improving quality. In addition to fast processes, this also ensures reliable decisions and relieves the burden on employees and economic resources. In addition, control and audit mechanisms can be integrated into a document management workflow, which increase the security of processes and facilitate compliance and regulatory requirements.
Advantages of a DMS workflow:
Higher process speed
Effective document tracking
High compliance and regulatory security
Lower error rate
Relieving the burden on employees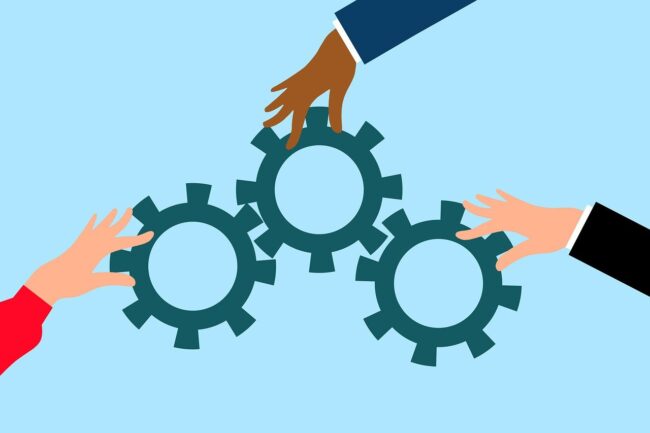 How does a DMS workflow work?
A document management workflow begins with the digital scanning of a paper document. All relevant information is recognized and read out by intelligent OCR software. The subsequent digital transfer and processing of the read-out information is the basic function of most workflows. This is because most business processes involve documents such as order confirmations, invoices, etc.. Work that previously had to be processed manually and time-consuming by several employees can be done completely electronically with modern document management software solutions.
The documents are automatically forwarded to the responsible processors - who can check the decisions made and the processes that have taken place, or carry out further processing if required. The document itself is not sent, but only the link to the corresponding path in the document management system. This has the advantage that enormous storage space is saved and the document remains accessible to all authorized employees during the workflow. In addition, authorizations can be granted and adjusted so that unauthorized access can be ruled out.
The next steps make for intelligent further processing of the documents data. A natural language processing tool recognizes basic elements such as people, places, companies and time information. This data is combined with information from the computer vision model so that, for example, mappings can be made to perform new optimized processes. The mapping is also based on intelligent OCR solutions that use artificial intelligence for processing.After the final transfer to the respective target systems, the sets can additionally be combined and enriched with existing information - for example, via an API or a CSV download.
Who particularly benefits from a DMS workflow?
Companies in every industry can benefit from modern document management and intelligent workflows. Processes can be optimized, employees can be relieved and resources can be used in a more targeted manner. Companies with a large amount of work involved in processing and archiving documents can benefit particularly from the technology. For this reason, players in the insurance and banking sectors in particular, as well as companies in the healthcare and education sectors and public administrations, are major beneficiaries of such process optimization and automation. Nevertheless, there is still a great deal of work to be done here as well. Backlog.
Companies that particularly benefit from DMS workflows:
Banks and financial institutions
insurance
Public administrations
Health and educational institutions
Companies with high administrative costs
Document management with Konfuzio:
A powerful solution for machine learning and professional enterprise document management is Konfuzio. The German manufacturer of intelligent and reliable OCR technology presents a all-in-one tool for the automatic processing of documents, thus providing a central service for digital transformation.
The Deep Computer Vision-based model has been trained on over 100,000 documents. The software provides the necessary cognitive capabilities such as Machine and Deep Learning to extract, classify and pass data to downstream workflows in a qualified manner. Elements such as tables, paragraphs, and headings are recognized across projects, regardless of language. For text recognition by OCR, Konfuzio selects the appropriate technology depending on the quality of the incoming document. Even if the software is used on-premise, very good results can be achieved with an LSTM Deep Net. For example, Konfuzio's service extracts text and image documents in seconds. Its OCR online API allows seamless connection and integration of these functionalities via REST or RPA robots into the company-specific software. In-house business processes can also be linked to the functionalities of the Konfuzio AI in this way.
The AI at the core of the Konfuzio AI shows its full potential in transfer learning, i.e. the recognition of information in specific contexts. For example, the street is assigned to the supplier, the invoice number is assigned to the invoice and the item number to an invoice item. In addition, the software can also distinguish, for example, between the address of the supplier and the recipient Similarly, Konfuzio also works with Delivery bills, Payment advice or other documents, significantly reducing manual and repetitive tasks for employees.