An networked data management is indispensable for optimizing your business processes. Effective analysis options, smooth processes and easy integration into your daily routine are the be-all and end-all. Accelerate your digital transformation with the right software. An intelligent data management platform should combine horizontal and vertical business data management with team capabilities for streamlined collaboration.
This article was written in German, automatically translated into other languages and editorially reviewed. We welcome feedback at the end of the article.
Discover Dashlake for your data management
From productivity to Delivery performance - Dashlake enables intelligent data management for SMEs in a wide range of industries. Our 100% in-house development combines the areas of data analysis, data management and collaboration in one platform.
We customize our existing templates to your individual requirements - for example, you receive your BWA at the push of a button or a central access to your ticket management system as an app.
Unleash the full potential of your data by linking different systems, tools and teams. Dashlake supports any data analysis and allows you to simplify and automate your workflows.
Your advantages at a glance
Fast Implementation of desired functionalities as apps by adapting existing templates.
Comprehensive, cross-departmental analyses by the Connection of internal and external data sources.
Ideal prerequisite for optimizing your corporate development and business planning with trend analyses.
Integrated Collaboration features simplify cooperation.
Uniform role and access management for all dashboards and apps.
Cross-application data management
Dashlake has comprehensive and extensible dashboard management: integrate your native dashboards or external dashboards from Amazon QuickSight, Microsoft Power BI, Atlassian Jira and Clockify with just a few clicks. All dashboards of the daily business are available to you Centralized in one application at your disposal. Save valuable time by no longer constantly switch between different programs need to get all the information you want.
How does the integration of Dashlake work?
Each company has a unique data structure, individual business structures and specific goals. We take all these factors into account, to generate the maximum profit for your company from your data.  
We advise you on the optimal use of your company data through effective data management with Dashlake. To this end, we work together with you to develop your customized data analytics solution.
In a Workshop we define the short-, medium- and long-term goals to be achieved. Secondly, we survey the status quo. Based on this, we design a rough concept as a starting point for further work.
In the Concept phase we create a fine specification of the requirements and implementation. Together we define success criteria and plan a timeline.
For the Proof of Concept we select a specific success criterion together with you. For this, we develop an exemplary analysis and evaluate it together with you.
The Development we start with the connection of your data sources. In the second step, we build data architectures and data schemas. This is followed by the implementation of the analysis algorithms. Finally, we create the data visualizations.
For the Commissioning we release your customized Dashlake version in the cloud or install it at your on-prem. We introduce you to the solution and have you accept it. Finally, we train your employees so they can realize the full potential of your new data analytics solution.
What functionalities does Dashlake offer?
Increase the efficiency of your business processes through data-based optimizations and automation of your data management. Dashlake helps you with this and Combines user-friendly elements with useful functionalities:
Integration of business solutions
Integrate your ERP (Microsoft Dynamics NAV and 365 Business Central), CRM (Microsoft Dynamics CRM), DMS or task management tools (Atlassian Jira). About the connection of the IDP solution Konfuzio data can also be integrated directly from documents. The data read out is provided and processed as input for the desired analyses in your data management. The results of these analyses are Automatically integrated into dashboards, Excel reports, PDF files, workflows, and emails or output within the apps.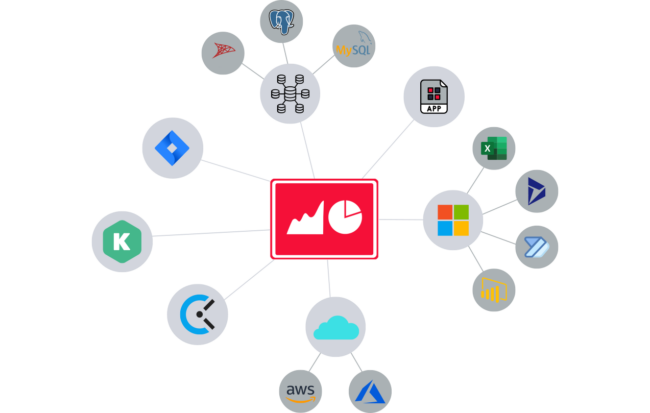 Turnkey apps
Extend your individual analyses with industry-specific analyses as well as management functionalities. Thanks to our template portfolio, we provide you with appropriate apps at short notice. Profit directly from your enterprise data without going through the entire process of building a data analytics solution.
Workflow integration
Control your business processes event-based, e.g. in Microsoft Power Automate. Automate regularly recurring work processesto free up your professionals and save valuable resources. Established routines are executed in the background based on Dashlake's analysis results, while your employees can take care of other tasks. They also reduce human error and processing time of these processes.
Cloud & On-Prem
Decide how we may provide you with Dashlake. We offer you a own instance in the cloud, at Hetzner, at Amazon Web Services (AWS) or at Microsoft Azure. You can choose between a German or a data center in any world zone. Of course, we also install Dashlake for you locally on your own servers.
User Roles & Access Management
Manage access rights for your employees' dashboards and licenses in a consistent and straightforward way. Assign dashboards to dedicated individuals and control available functionality through user roles and licenses. The Central and uniform management facilitates handling and enable individual user options for your employees.
Comment function directly in the dashboard
Comment directly in the dashboard and share important insights with your colleagues directly on the spot. The communication and the related information are thus directly linked. This centralization prevents misunderstandings and facilitates internal cooperation.
Available licenses
Dashlake distinguishes the license types Discoverer and Pearl Diver. Pearl Divers can use numerous management and collaboration features. They Create and manage dashboards. Discoverer can give them View and comment on assigned dashboards as well as use selected apps.
Conclusion: Fact-based decisions thanks to maximum data analysis
Discover with Dashlake, How much added value is actually in your data. Maximize the real value of your enterprise data and secure valuable competitive advantages. Accelerate your digital transformation, drive collaboration and improve your operational efficiency. Our flexible and scalable platform evolves with your business. So you can stay ahead of your competition for years to come. Contact us today to learn more about Dashlake and our Customized data management for SMEs to experience!
The brains behind Dashlake
CompAn Labs is a service and solution provider for Data analysis, reporting, data visualization, business performance management, Big Data solutions and BI training.. The team consists of experienced data analysts, BI developers and consultants who use their know-how and experience to develop customized BI solutions. In this way, companies gain a deeper insight into their business activities. This allows them to use human and financial resources more efficiently and increase their sales.
Data Analytics meets IDP
CompAn Labs and Konfuzio combine the strengths of automated Extraction of machine-readable data from documents such as invoices, receipts or delivery bills with the potential of data analysis. The combination of the two technologies accelerates business processes and helps you make more reliable and informed decisions. Take advantage of the symbiosis and increase the success of the company.