Already in 2020, 78 percent of all companies worldwide were using solutions to automate business and administrative processes, such as Robotic Process Automation (study by Deloitte). Today, the number is likely to be significantly higher. Automation is not limited to a single area, but covers all business segments - from marketing and customer service to accounting, human resources, project management and sales. And it's happening in all industries: Automation software can be found, for example, in the Public healththe financial sector and logistics.
Companies rely primarily on the automatic recognition of incoming documents and information (Statista / 2023). We show you which other solutions are used for automation and how companies benefit from them. And: We provide an overview of established providers on the market.
This article was written in German, automatically translated into other languages and editorially reviewed. We welcome feedback at the end of the article.
Automation Software - Definition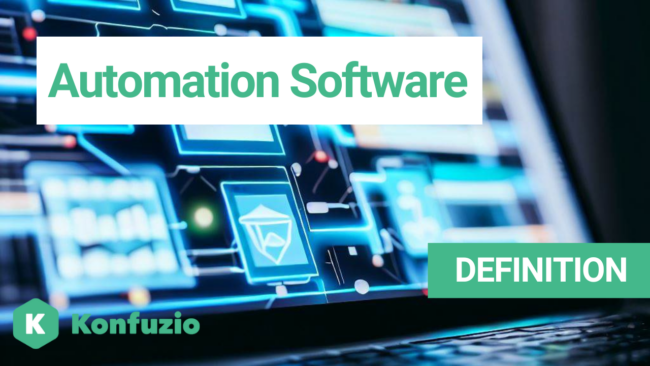 Automation software describes specialized application programs that companies use to automate recurring and time-consuming tasks in various areas. The purpose of the software is to minimize the need for manual intervention and make work processes more efficient. In the process, algorithms and scripts with predefined rules perform repetitive tasks independently.
In practice, automation software can perform a wide range of tasks, such as automatic data processing and analysis, task scheduling, file transfer and synchronization, report generation, and system monitoring.
Automating these activities minimizes human error, ensures consistency of results, makes better use of resources, and reduces costs.
The uses of automation software are broad and include areas such as manufacturing, healthcare, logistics, finance and information technology.
Benefits of Automation Software
In practice, this is how companies benefit from the use of an Automation Software Solution:
| Benefit | Explanation |
| --- | --- |
| Overcoming the shortage of skilled workers | IT resources are scarce. With automation software, companies can therefore circumvent the shortage of skilled workers. |
| Efficiency increase | Automation tools for Windows, Mac and Linux, for example, speed up workflows and thus reduce overall working time. This makes companies more efficient. |
| Cost reduction | Automated processes reduce manual work steps so that companies need to deploy fewer employees. This reduces personnel costs. |
| Error reduction | Automation minimizes human error in repetitive tasks, increases accuracy and reduces the risk of rework. |
| Scalability | Automated processes easily adapt to a fluctuating volume of work. Companies can thus easily meet a sudden increase in demand in particular. |
| Consistency | Automated processes improve the quality of services, minimize deviations and thus ensure consistent results. |
| Faster response time | Automated notifications enable quick responses to events without requiring manual monitoring. |
| Better use of resources | Automation software optimizes the use of resources by becoming active only under certain conditions. |
| Improved data management | Automation software tools capture, process and store data automatically. This improves data quality and integrity, creating the basis for better decisions. |
| Higher employee motivation | Automation Software Applications free employees from monotonous tasks and enable them to focus on more demanding activities. This increases their satisfaction. |
| Real-time insights | Automation software provides real-time data that enables informed decisions based on up-to-date information. |
Automation Software - Areas of Application
Until now, companies have mainly used marketing automation tools. In practice, they can use a automation to make processes more efficient in almost all business areas:
Customer service
Automation software tools like chatbots interact with customers in natural language. They can answer frequently asked questions, help customers navigate the website, and solve basic problems. An example would be an online retailer that has integrated a chatbot on its website. The bot can answer questions about products, delivery times, and return policies, which reduces waiting time for customers - leading to faster conversion.
Accounting and finances
Automated accounting software can automatically generate invoices, categorize transactions and generate reports on financial activities. It can also send payment reminders and set up recurring payments. For example, a company can use an accounting software with AI to send monthly invoices to customers, monitor incoming payments, and automatically send reminders when payments are overdue.
Inventory management
Automated inventory management systems can monitor stock levels in real time. They can send alerts when products are running low and automatically generate orders for products that need replenishing. A retailer could use this software to ensure that popular products never sell out by automatically triggering new orders with suppliers when inventory falls below a certain threshold.
Marketing
The use of marketing automation software enables companies to plan and execute marketing campaigns across multiple channels. For example, this can include email marketing, social media posts, digital ads, and other pillars of the customer journey. An example would be an e-commerce website that automatically sends personalized emails to customers who have left items in their shopping cart to encourage them to complete a purchase.
Human Resources
HR automation software can streamline the application process, centrally manage employee data, and automate administrative tasks such as time tracking and leave requests. A company could use this software to sift through applications, automatically generate employment contracts, and provide employees with a platform to request vacation days and track their work hours.
data processing
Automated data processing systems can process large amounts of structured and unstructured data. analyze and identify patterns and trends, and automatically generate reports. A financial company could use such systems to analyze historical financial data and make forecasts for future investment decisions.
Distribution
Automated sales software can support the sales process by providing sales reps with leads, sending follow-up emails, and tracking sales activity. An example would be a sales platform that automatically sends emails to potential customers who have shown interest in a product to follow them further in the sales process.
Project Management
Automated project management tools can automatically assign tasks, track progress and send reminders for deadlines and milestones. A team could use such a platform to set project goals, delegate tasks to team members, and automatically receive notifications when tasks need to be completed.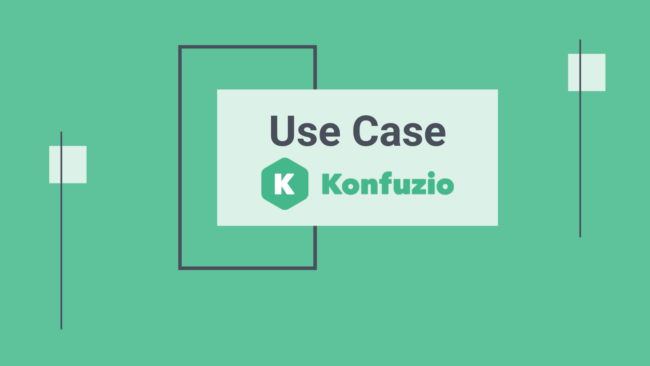 Automation Software - Use Case
To illustrate the tasks that automation software can perform in a company's day-to-day operations, let's walk through a classic use case:
Automated contract review in a law firm
An established law firm processes a large number of contracts for its clients. Manual review and evaluation of these contracts is time-consuming, error-prone, and carries the risk of overlooking important clauses or deadlines.
Solution
The company is implementing automation software based on artificial intelligence that specializes in automated analysis of contract documents.
Functionality
The software is trained with an extensive database of legal templates and terminology. When a new contract is submitted, the software automatically analyzes the text content and identifies relevant clauses, deadlines, conditions and other important information.
Advantages
The operation of the automation software brings the following advantages to the company:
Efficient contract review
The automation software enables fast and precise analysis of contract documents. This significantly speeds up the review process.
Error avoidance
Because the software is based on artificial intelligence, it reduces sources of human error and ensures consistent and accurate evaluation.
Focus on strategic tasks
Manual contract review usually requires a lot of time and resources. Automation software significantly reduces the time required, allowing lawyers to focus on strategic tasks.
Early warnings
The software automatically detects deadlines and important dates in contracts and notifies attorneys in a timely manner to avoid delays.
Better basis for decision making
Automated analysis identifies patterns and trends in contract data, which helps attorneys make informed legal recommendations.
Implementation
The automation software will be integrated with the firm's existing document management platform. Attorneys will be trained on how to effectively use the software to achieve the best possible results.
Result
By implementing the automation software, the law firm can make contract audits more efficient, minimize errors and provide higher quality legal advice. This leads to optimized use of attorney resources, increased productivity, and ultimately increased client satisfaction.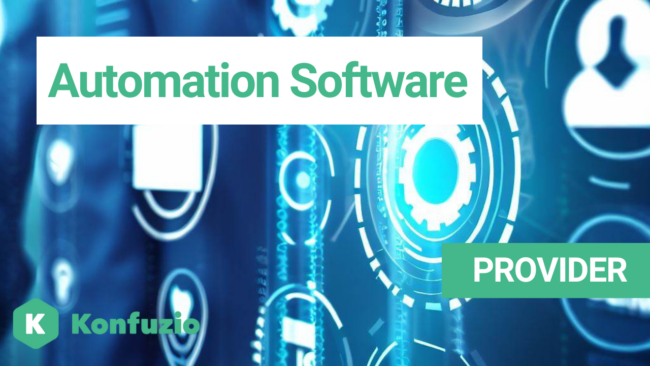 Automation Software - 10 major Providers
Companies will find a wide range of automation software solutions on the market. Which one is the right one is decided by the industry and the exact automation needs. The following 10 vendors have established software that many companies rely on:
UiPath
UiPath is a leading provider of Robotic Process Automation (RPA). The platform enables the automation of repetitive tasks by using software robots to simulate human interactions with applications. A prominent feature is the "UiPath Studio," a visual development environment that allows users without extensive programming skills to create automation workflows. These workflows can be connected to various business applications, from ERP systems to CRM platforms.
Automation Anywhere
Automation Anywhere offers scalable Robotic Process Automation solutions that help companies automate diverse business processes. A key element is the "Bot Store", a collection of pre-built automation bots for common tasks. The platform seamlessly integrates cloud services and enterprise applications to make processes more efficient.
Blue Prism
Blue Prism is known for its Digital Workforce, which enables process automation. The "Process Studio" is an essential tool that enables visual creation of process flows. The platform integrates with CRM systems, databases and other enterprise applications.
Pega Systems
Pega Systems offers intelligent automation solutions for customer-centric processes. One notable feature is the "Decision Strategy Manager", which enables automated adjustments to business decisions based on real-time data. The platform integrates seamlessly with customer service platforms and analytics tools.
Microsoft Power Automate
Microsoft Power Automate enables easy automation within the Microsoft ecosystem. The platform provides "flows," automated workflows that facilitate data transfer and notifications. With seamless integration with Office 365 and SharePoint, for example, Power Automate facilitates process automation.
WorkFusion
WorkFusion features AI-powered automation for data-intensive processes. "Cognitive Automation" uses AI for data extraction and decision making. The platform integrates with data sources and analytics tools.
Kofax
Kofax offers automation solutions for document processing and workflow optimization. The platform integrates with ECM systems and cloud services. "TotalAgility" is a key feature that provides a visual designer for processes, offering flexibility and scalability.
Appian
Appian provides low-threshold automation and business process management. The "Appian Designer" is a Low-code environment for creating applications and automated processes. Integrations with CRM, ERP and other enterprise applications make the platform a powerful tool for process automation.
Nintex
Nintex enables the automation of complex workflows via its own workflow engine. Among other things, customers can use custom forms for data capture and processing as well as low-code solutions. With integrations such as in SharePoint and Salesforce, Nintex offers a broad application for process automation.
Konfuzio
Konfuzio is an automation software that specializes in automating text analysis and processing. Using artificial intelligence, Konfuzio enables companies to efficiently extract information from large volumes of unstructured text data. To do this, the platform features machine learning and advanced natural language processing.
Companies can thus analyze and classify texts automatically and extract relevant information.
Konfuzio provides a user-friendly development environment that allows users without deep technical knowledge to create and customize text analysis workflows. These workflows can be used in a wide variety of use cases - from processing customer feedback to automating legal document reviews. The platform integrates seamlessly with existing enterprise systems and offers both on-premise and cloud-based deployment options.
| Provider | Key features and functions | Integration | Deployment | Most important function |
| --- | --- | --- | --- | --- |
| UiPath | RPA for efficient task automation | ERP, CRM platforms, etc. | SaaS and On-Premise | Visual design environment for automation workflows without programming knowledge. |
| Automation Anywhere | Scalable RPA solutions for diverse business processes | Cloud services, applications | SaaS and On-Premise | Collection of pre-built automation bots for common tasks. |
| Blue Prism | Digital workforce for process automation | CRM systems, databases, etc. | Mainly on-premise | Visual environment for creating process flows and logic. |
| Pega Systems | Intelligent automation for customer-centric processes | Customer Service Platforms | SaaS and On-Premise | Automated adaptation of business decisions based on real-time data. |
| Microsoft Power Automate | Low-threshold automation in Microsoft ecosystems | Office 365, SharePoint, etc. | SaaS | Automated workflows for data transfer and notifications. |
| WorkFusion | AI-powered automation for data-intensive processes | Data sources, analysis tools | SaaS and On-Premise | Use AI for data extraction and decision making. |
| Kofax | Automation for document processing and workflow optimization | ECM systems, cloud services | SaaS and On-Premise | Visual designer for flexible, scalable process creation. |
| Appian | Low-threshold automation and business process management | CRM, ERP etc. | SaaS | Low-code environment for creating applications and processes. |
| Nintex | Workflow automation and process optimization | SharePoint, Salesforce and others | SaaS and On-Premise | Creation of custom forms for data collection and processing. |
| Konfuzio | Automation of text analysis and processing | ERP, ITSM tools, etc. | SaaS and On-Premise | Self-learning and trainable AI for automated document management. |
FAQ
What are Automation Software Solutions?
Automation Software Solutions are programs that automate tasks and processes. They make it possible to perform recurring tasks without manual intervention. By setting up rules, actions and triggers, the software can link different applications and systems and transfer data between them. This increases efficiency, reduces errors and saves time. Companies use automation software to streamline workflows and minimize human interaction in repetitive operations.
How do companies benefit from automation software?
Companies benefit from automation software through increased efficiency. For this, the software automates repetitive tasks and thus saves time. In this way, employees can concentrate on creativity and strategic tasks. In addition, the error rate decreases because the software works precisely. And: costs are reduced because fewer working hours are required.
What automation software providers are there?
Automation software providers include, for example, Konfuzio, which specializes in document automation. The software extracts valuable information from texts, improves data quality and enables efficient process automation. UiPath, on the other hand, focuses on Robotic Process Automation (RPA), which allows repetitive tasks to be automated using software robots. Another vendor is Zapier, which specializes in web application integration. The software connects different apps and automates data transfers to seamlessly link workflows.
Would you like to learn more about the possible applications of Automation Software? Then contact us now via the Contact form!